Villa La Roche dans l'Eau – St Barts
Located in the Caribbean, north of the West Indian arc, Saint-Barths is unlike any other French island. With a heavenly climate and 300 days of annual sunshine, this pearl of the Caribbean invites visitors to discover its wonders: magical white sand beaches, turquoise waters ideal for scuba diving, exquisite haute cuisine with accents from all over the world. Delightful and relaxing!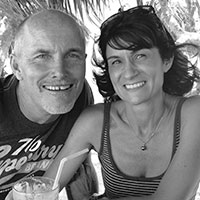 With twenty years of experience in seasonal rental, Laurence & Léon welcome you wholeheartedly, with the sole objective of making your stay unique and unforgettable.
Léon, born in Saint-Barths, has seen "his island" evolve, and above all, has kept in mind what natural Saint-Barths entrusted to him. He followed his father's path and became a builder.
After acquiring this plot in Grand-Fond, he imagined, day after day, a house in harmony with the wild nature of the coast, its rocks, greenery, ocean… And very quickly the blueprint in his mind, like a painting, emerged.
In 2010, La Roche dans l'Eau welcomed families, friends, couples… as well as Saint-Barths lovers who know how to enjoy the tranquility and zen athmosphere of Grand-Fond.
Léon brought together his strengths as a builder and artist to create a functional villa while his wife Laurence did the interior design so that everyone would feel at ease there.
The artist's creativity took off and today everybody loves the magnificent swimming pool of La Roche dans l'Eau .  He wanted it to be unique, a beach-like swimming pool with a rock sentinel.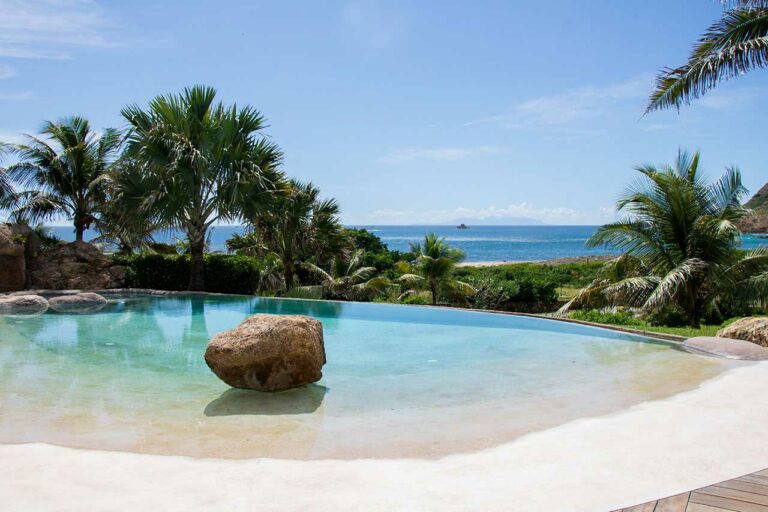 Villa La Roche dans l'Eau : Garden and View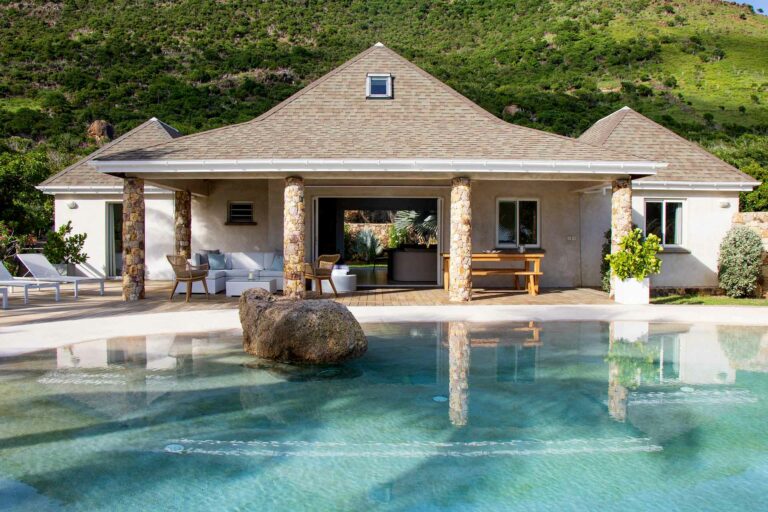 Villa La Roche dans l'Eau – Villa Rental – St-Barts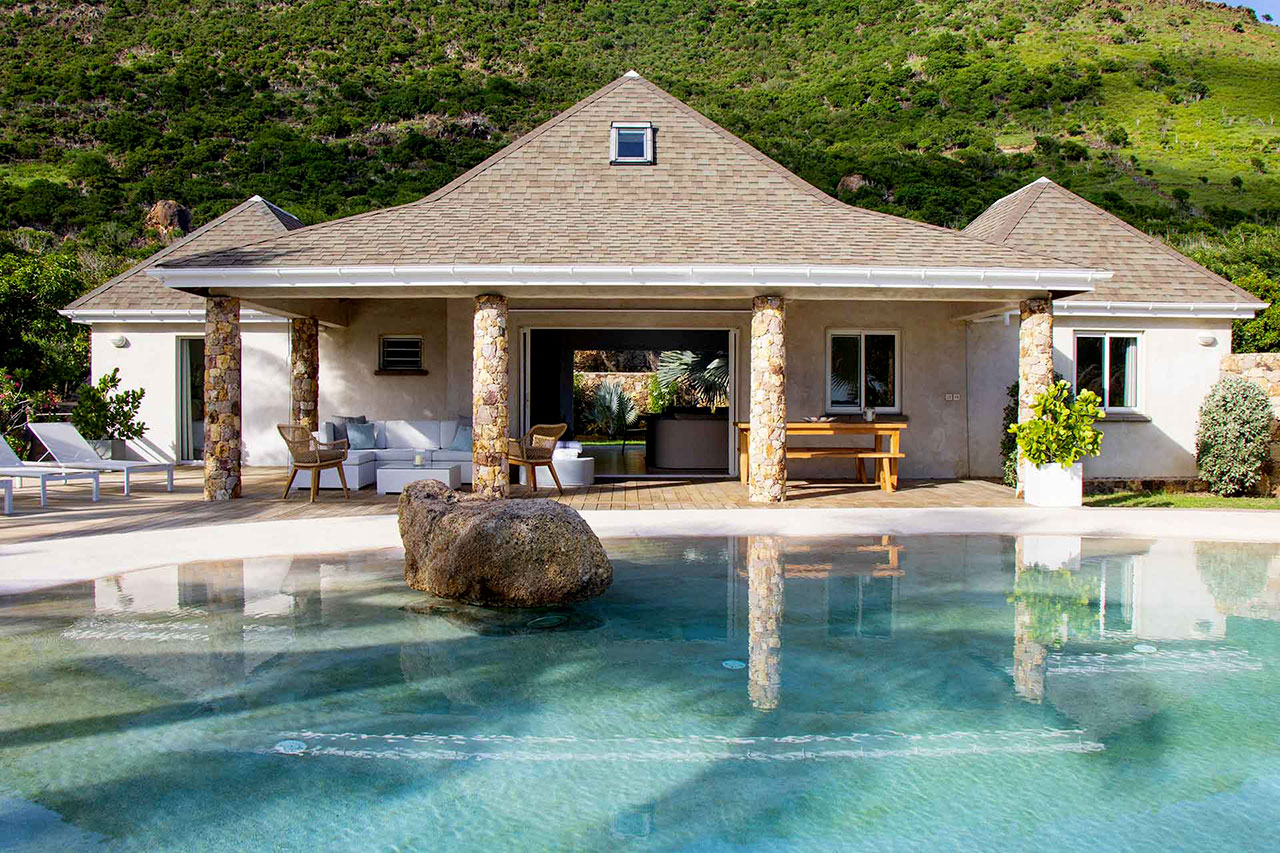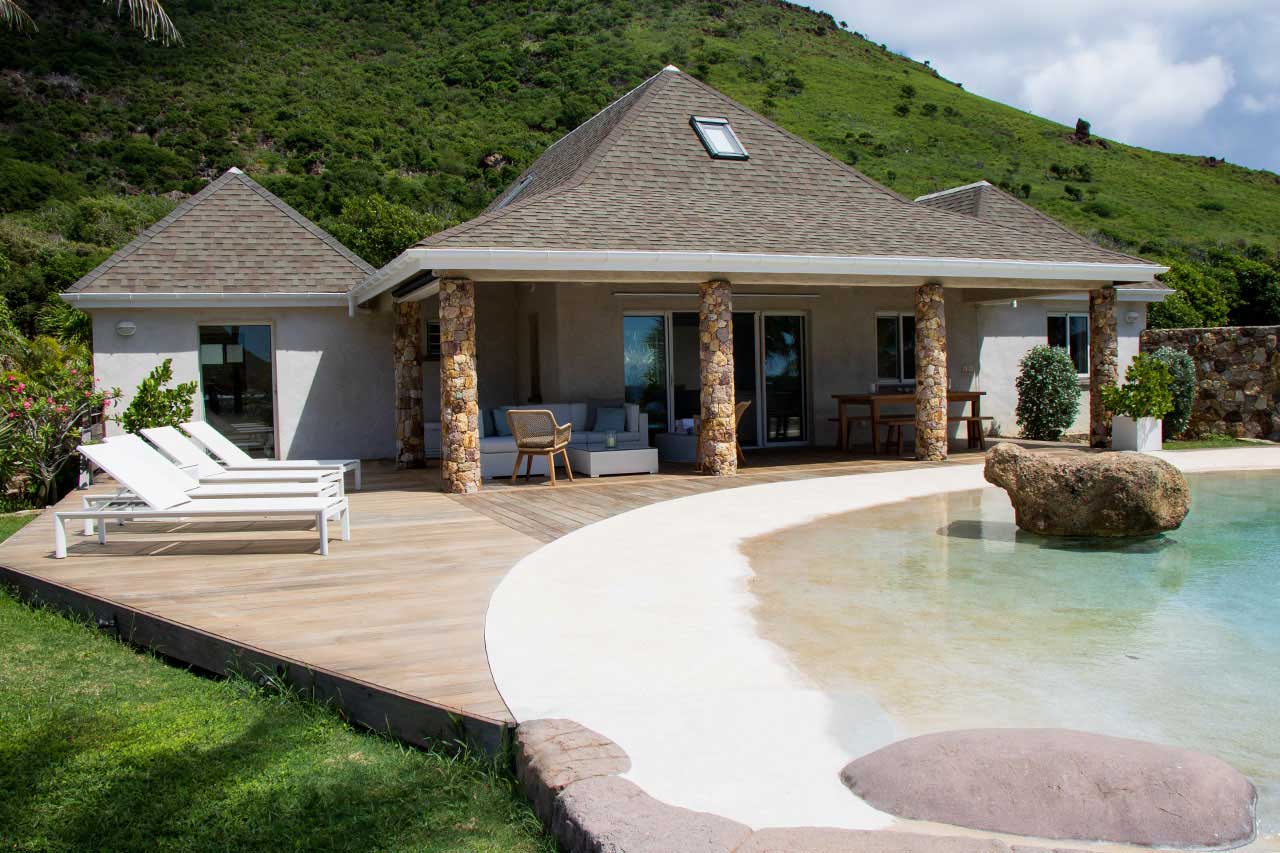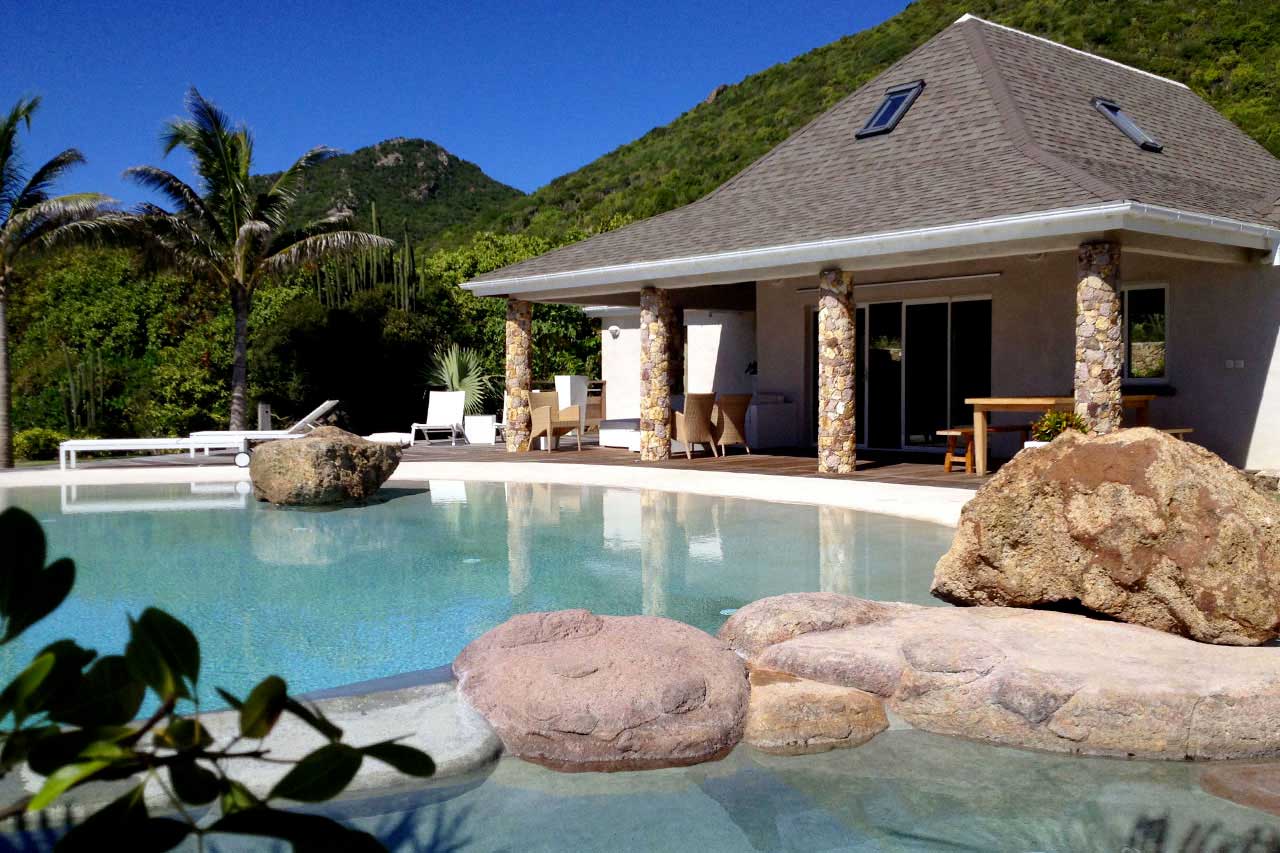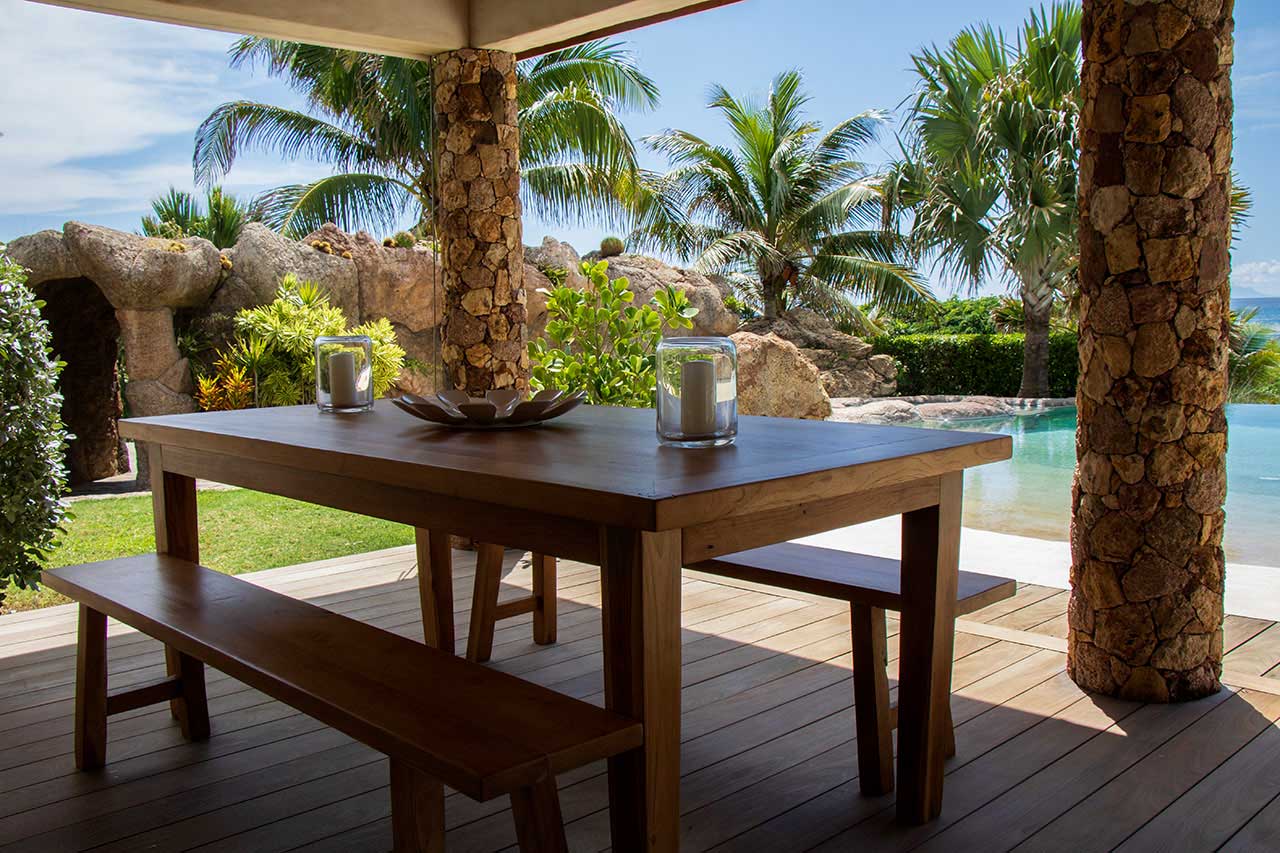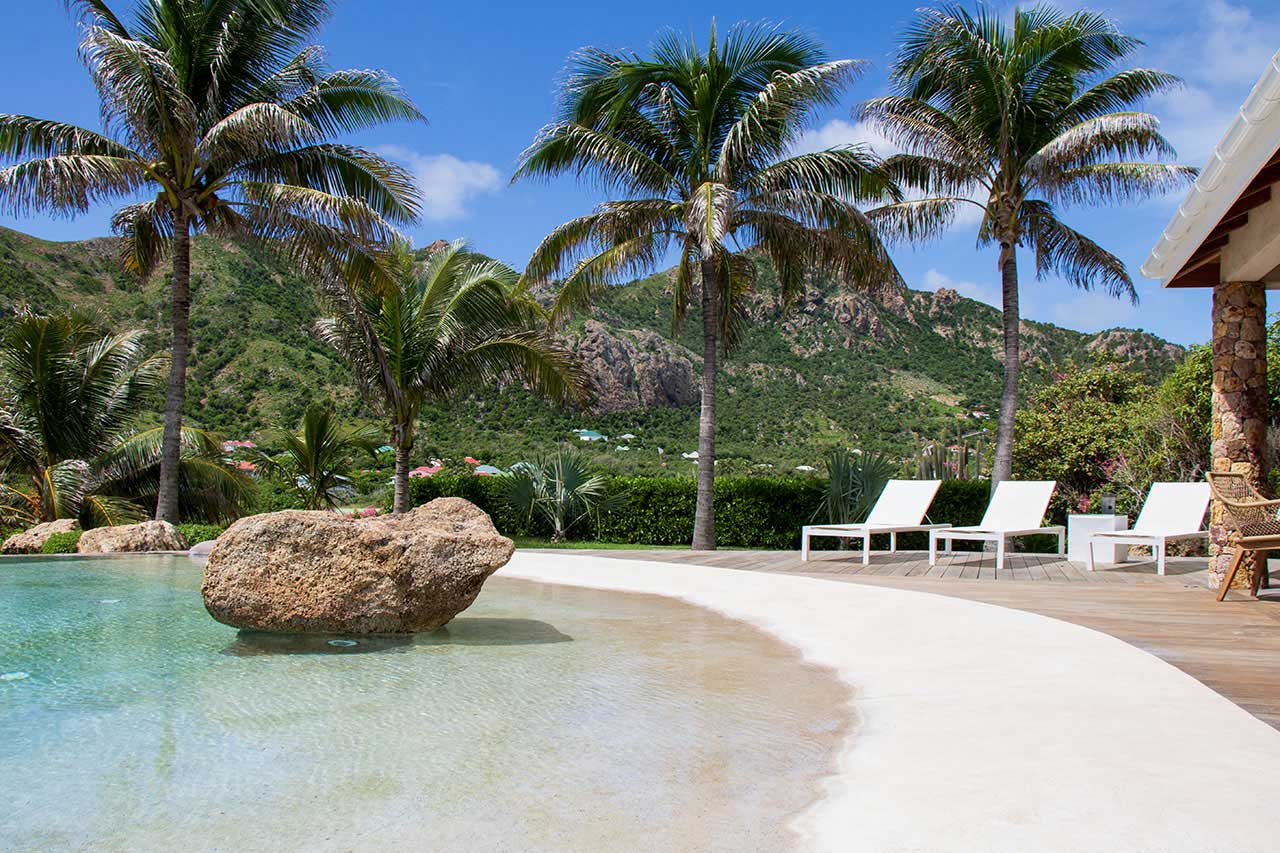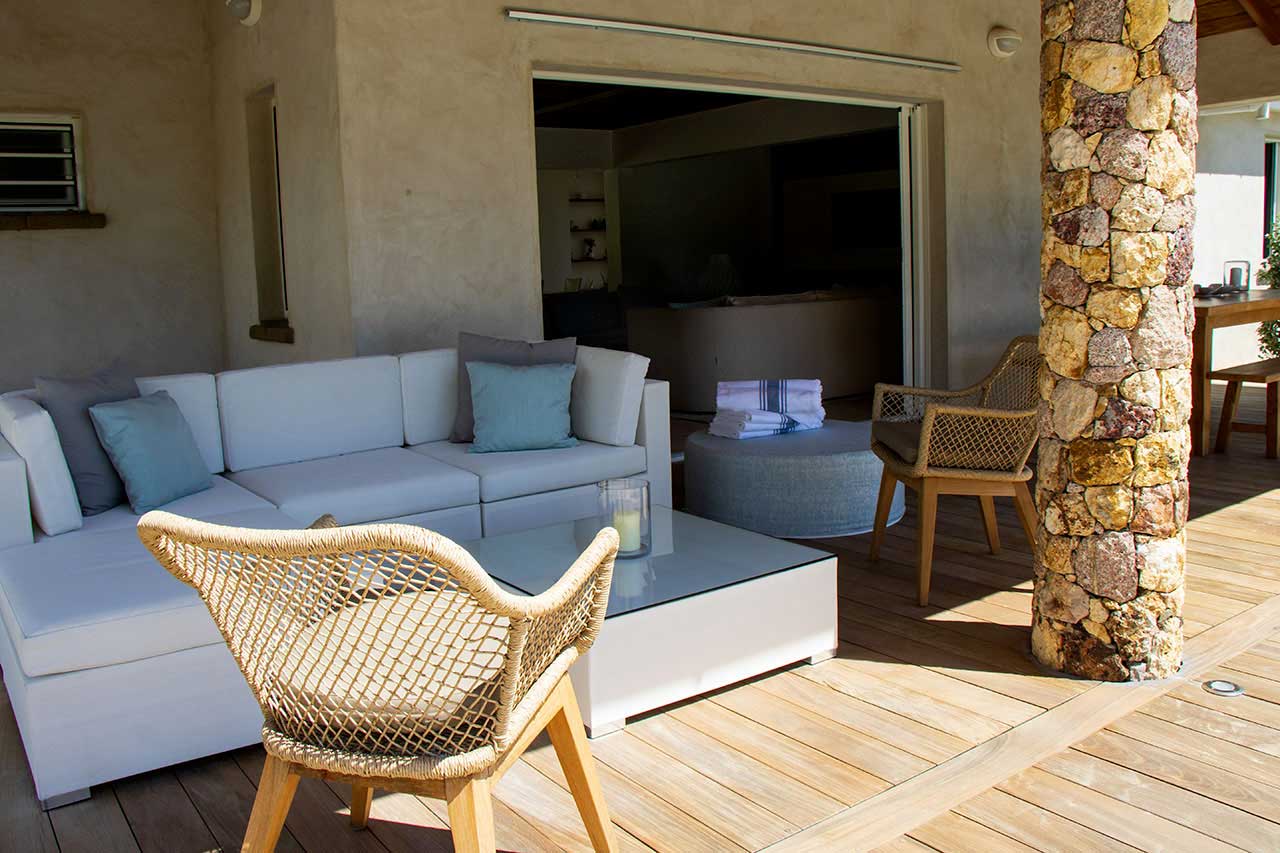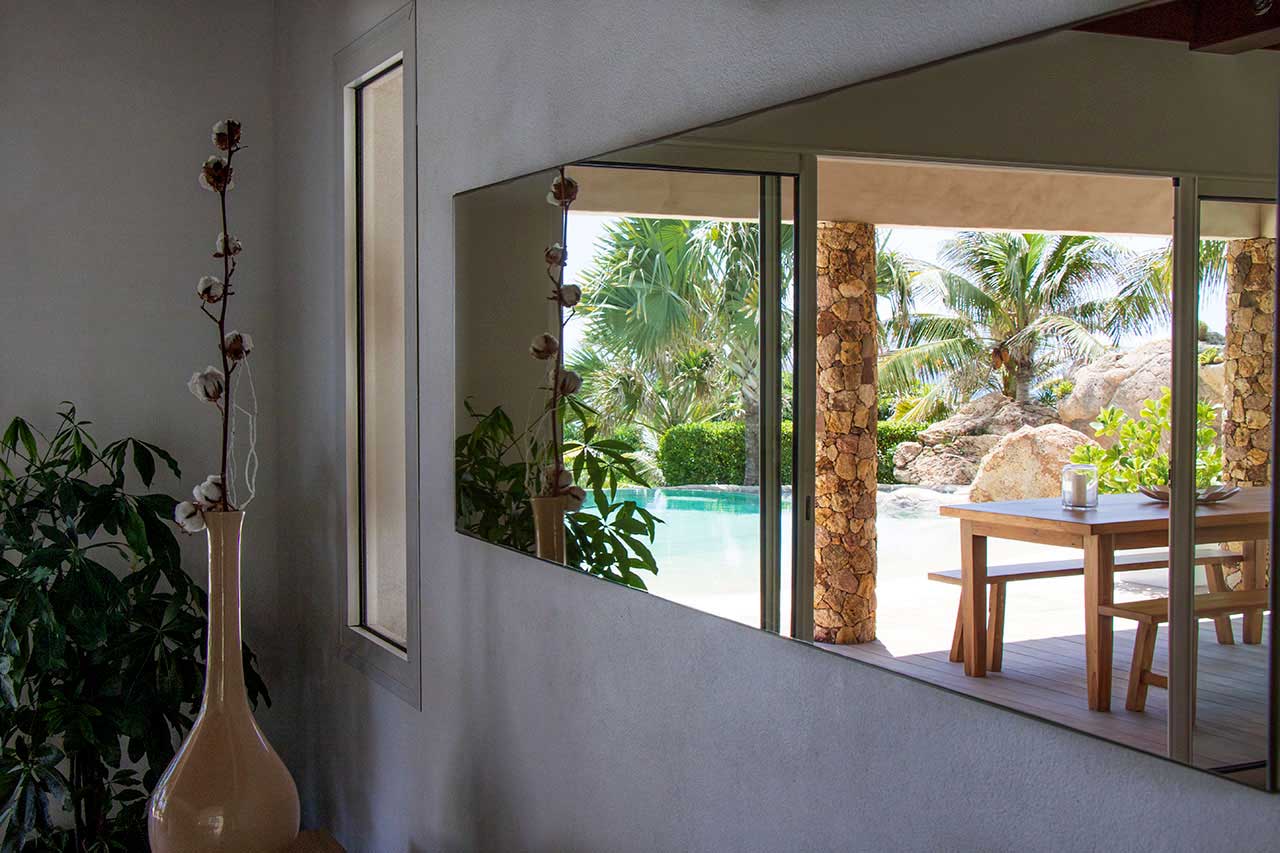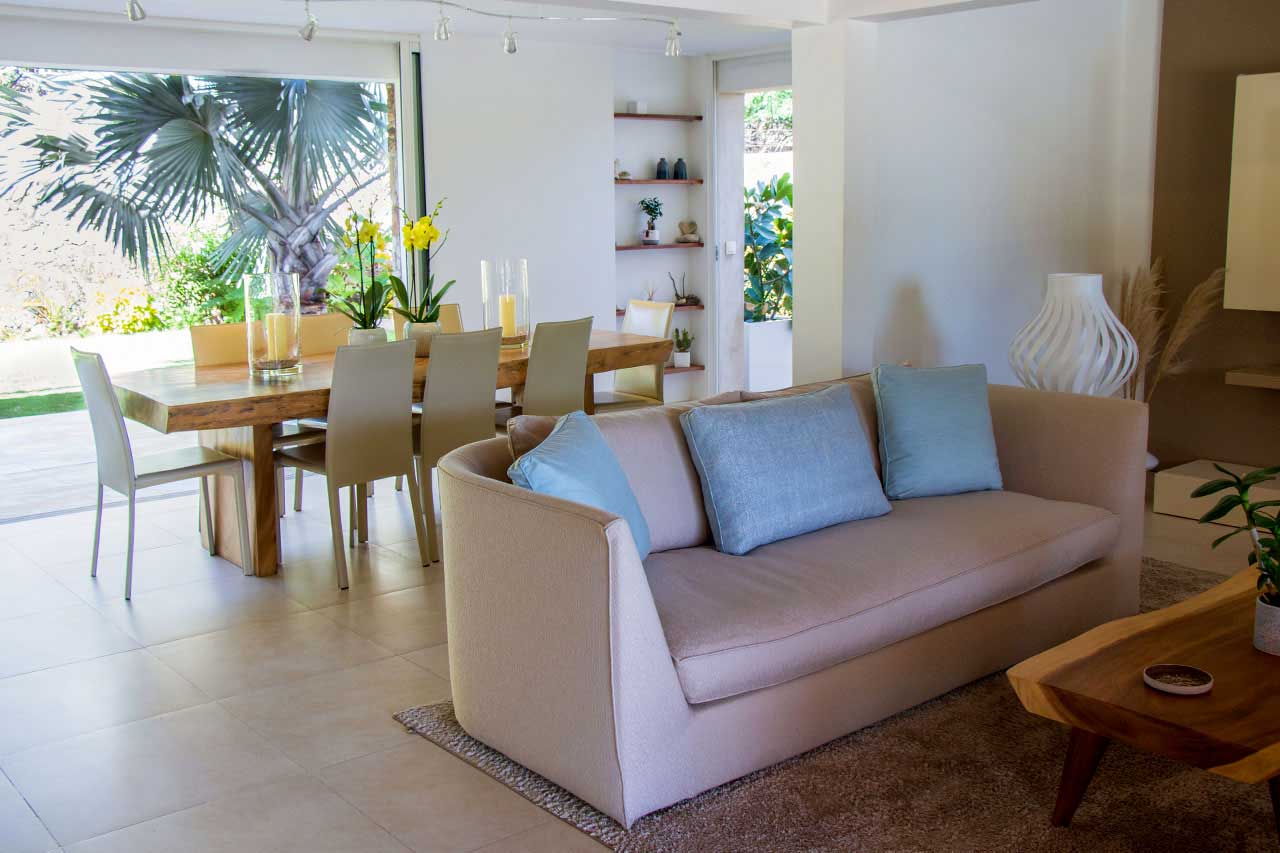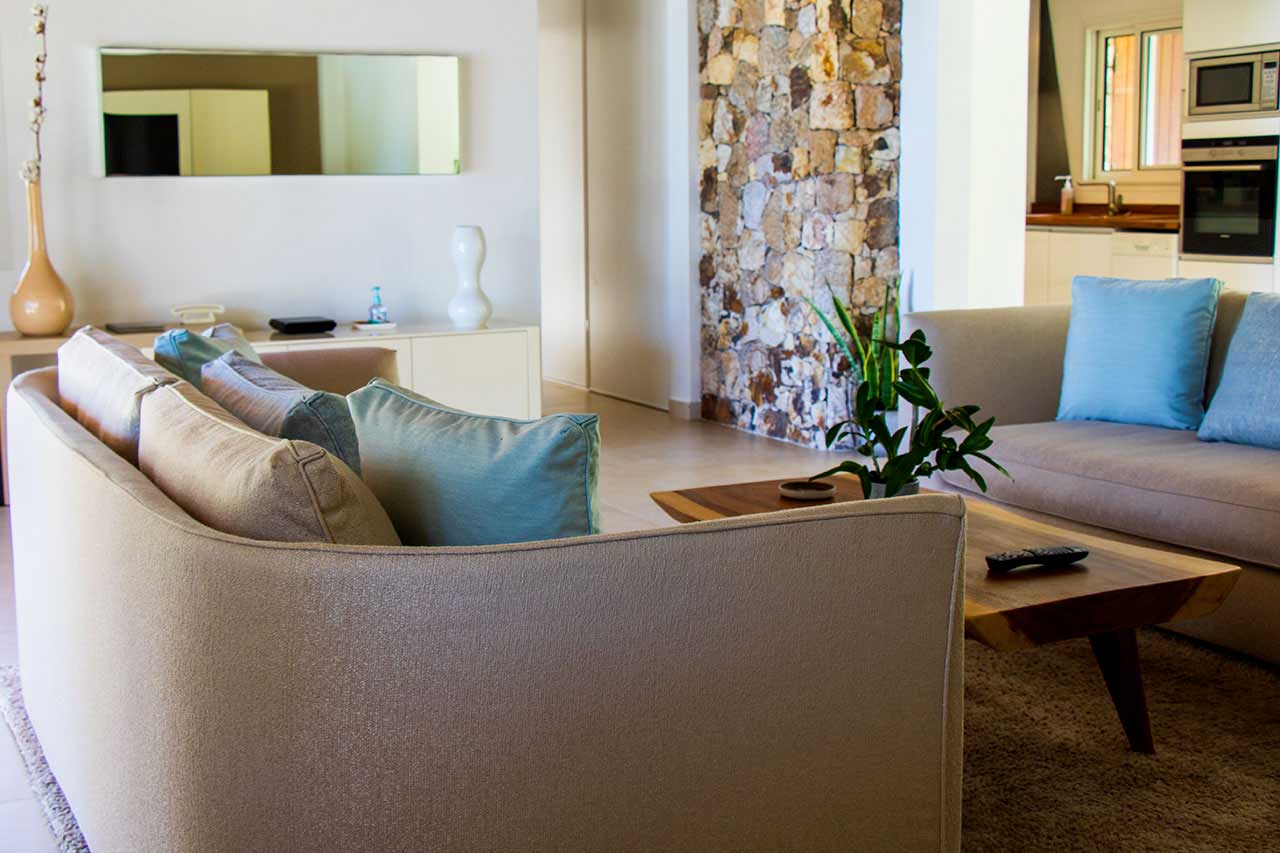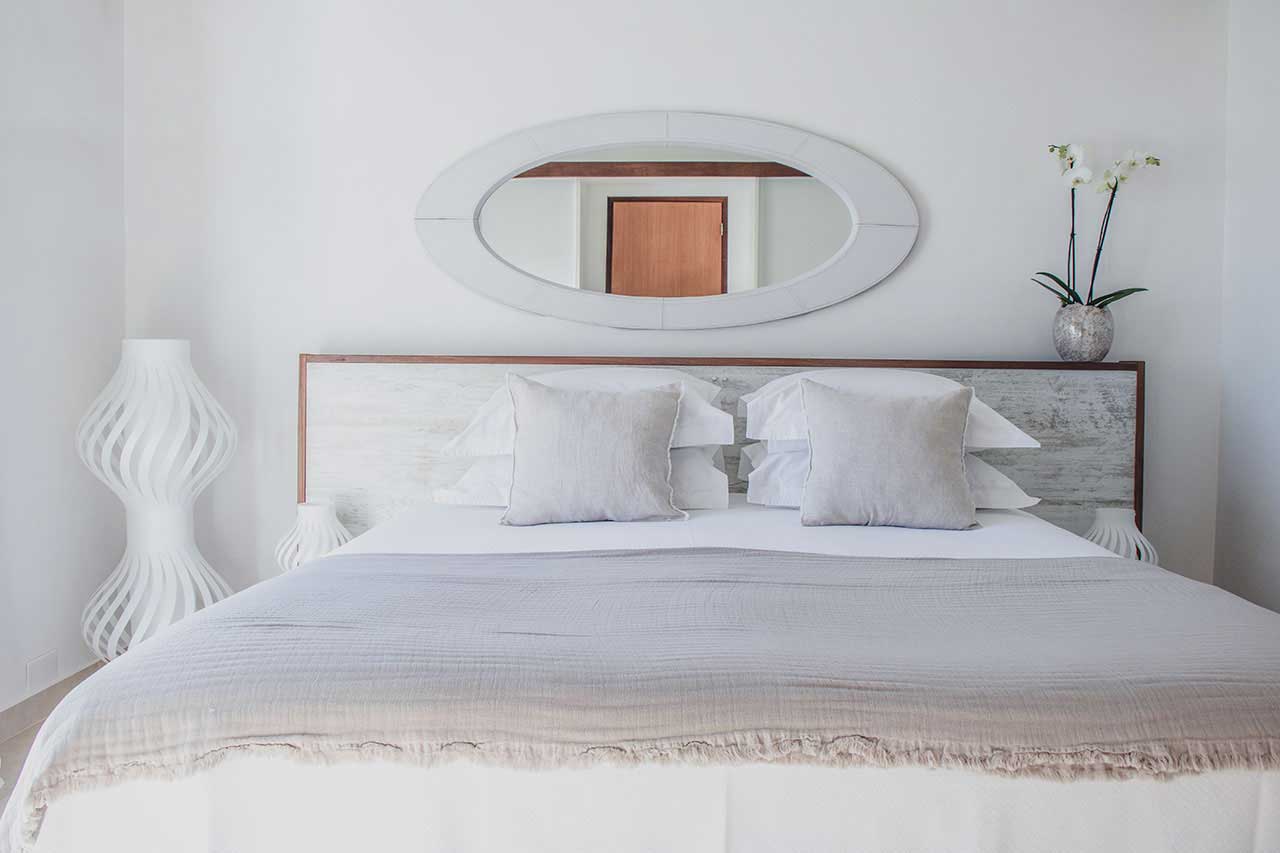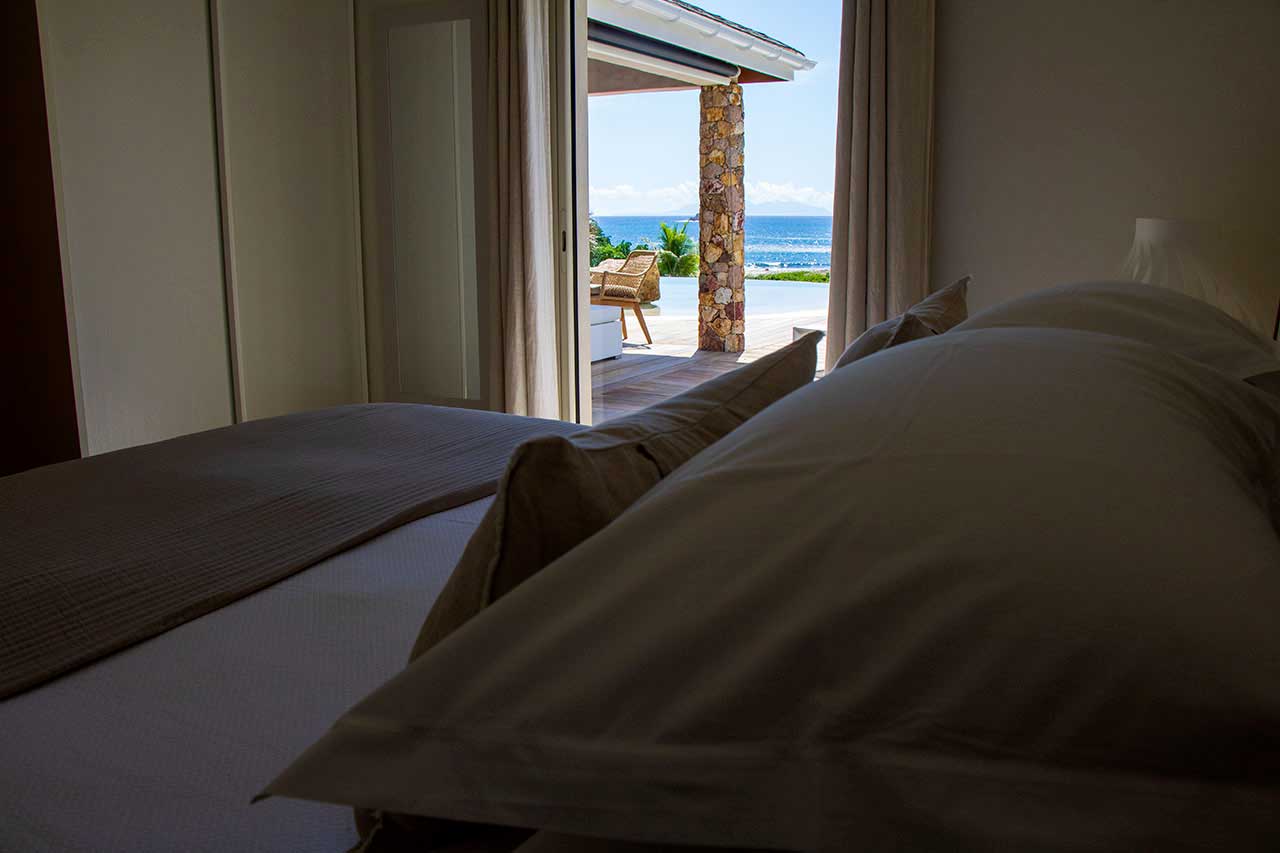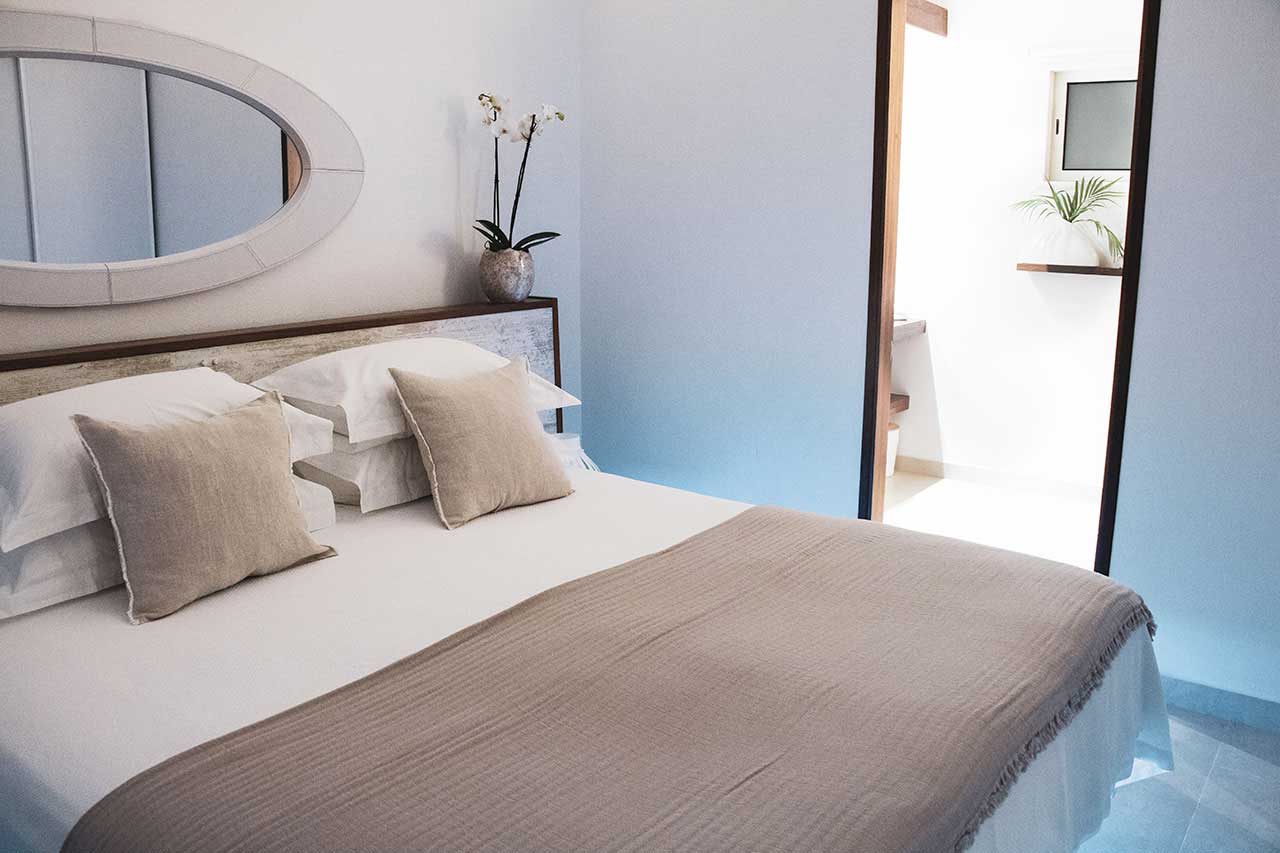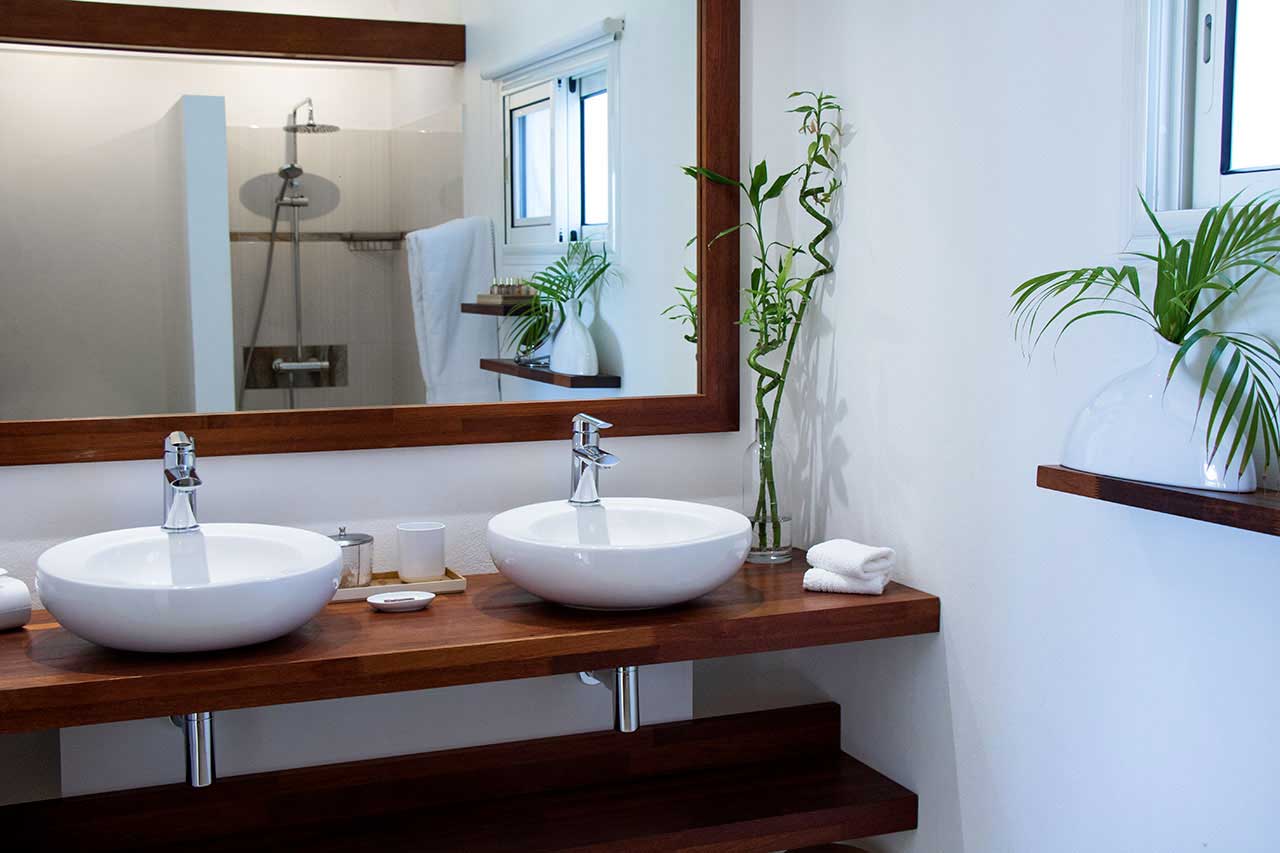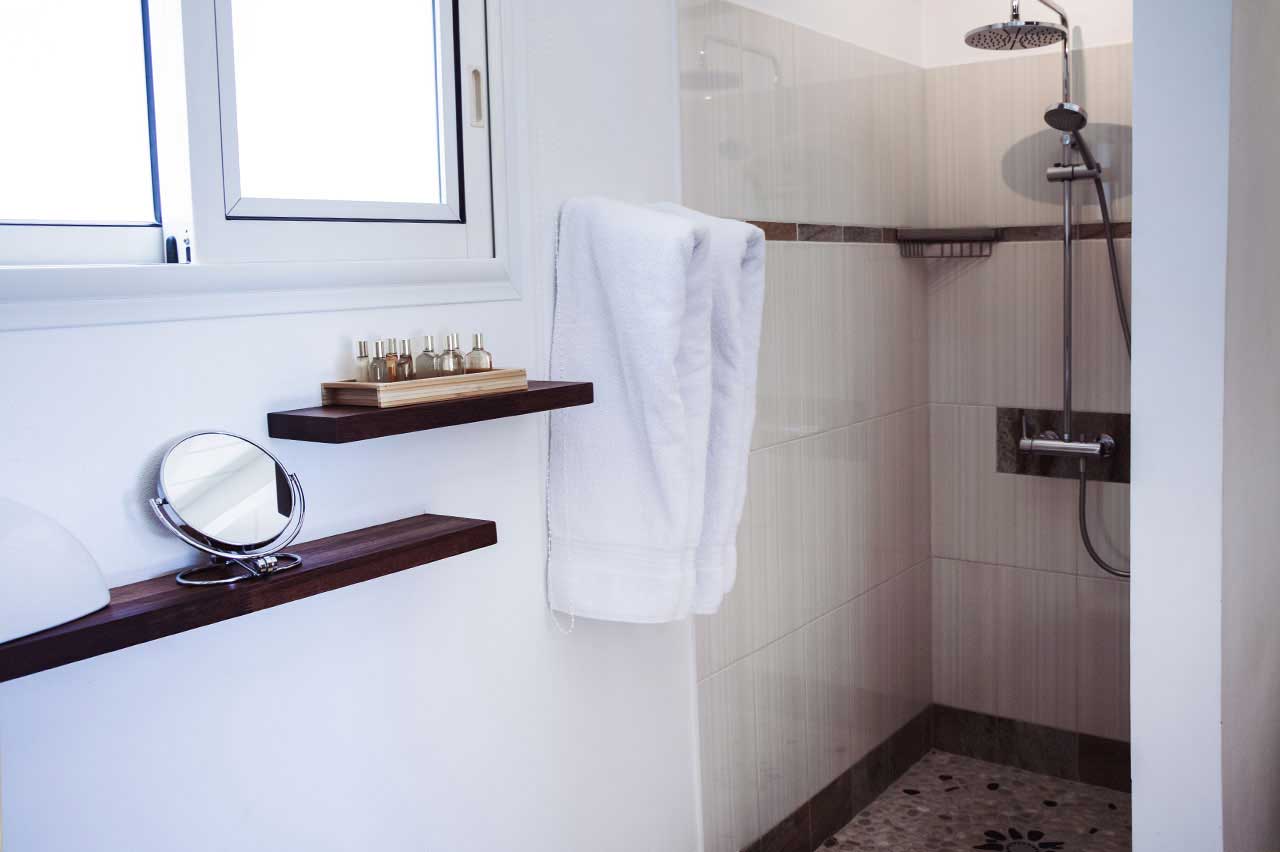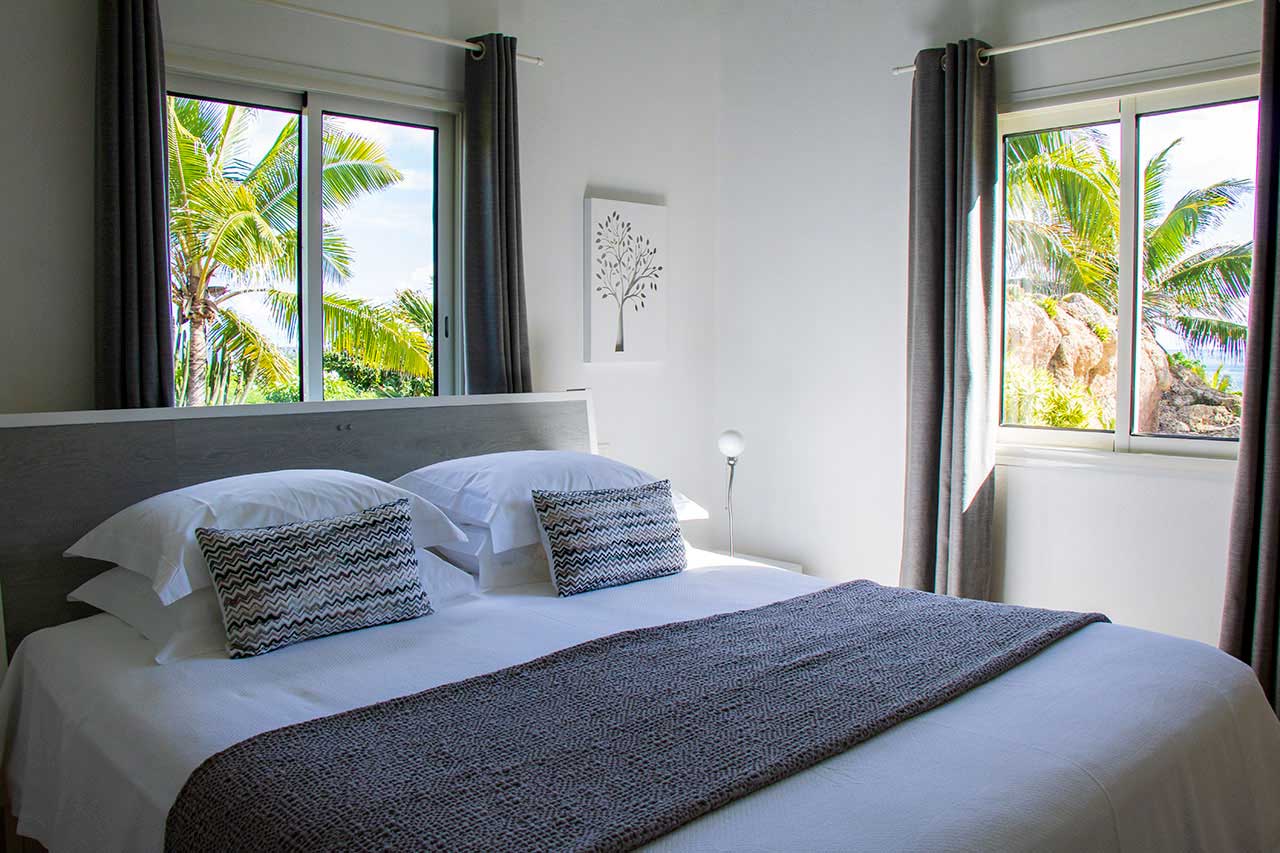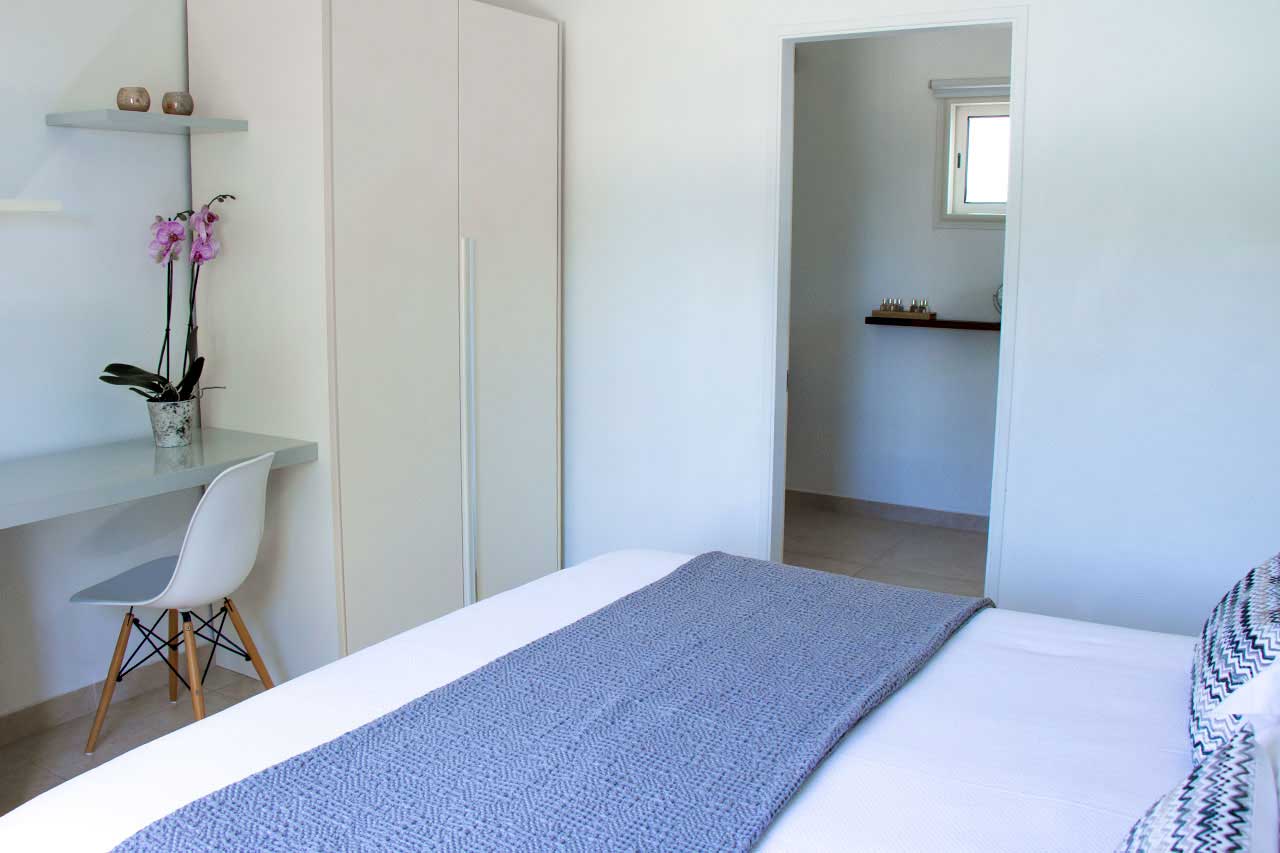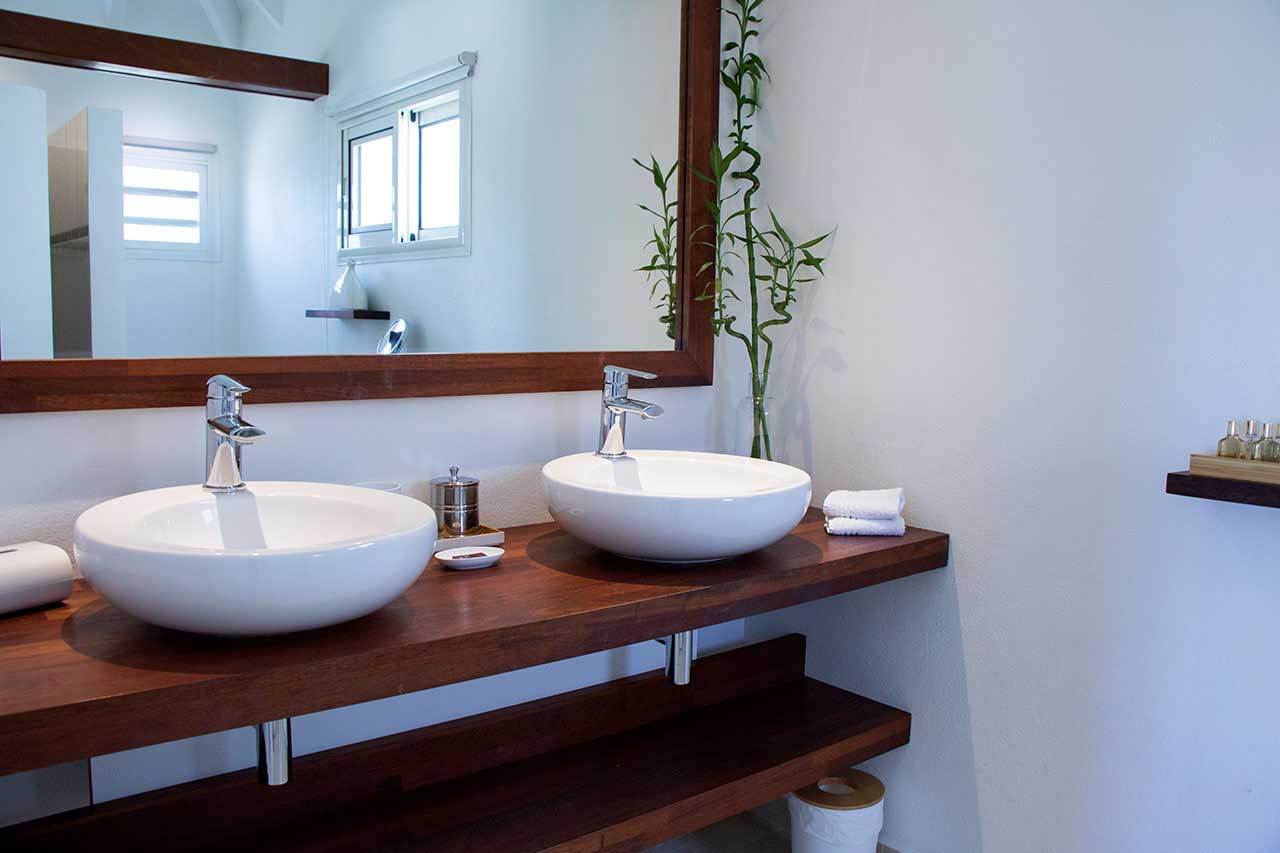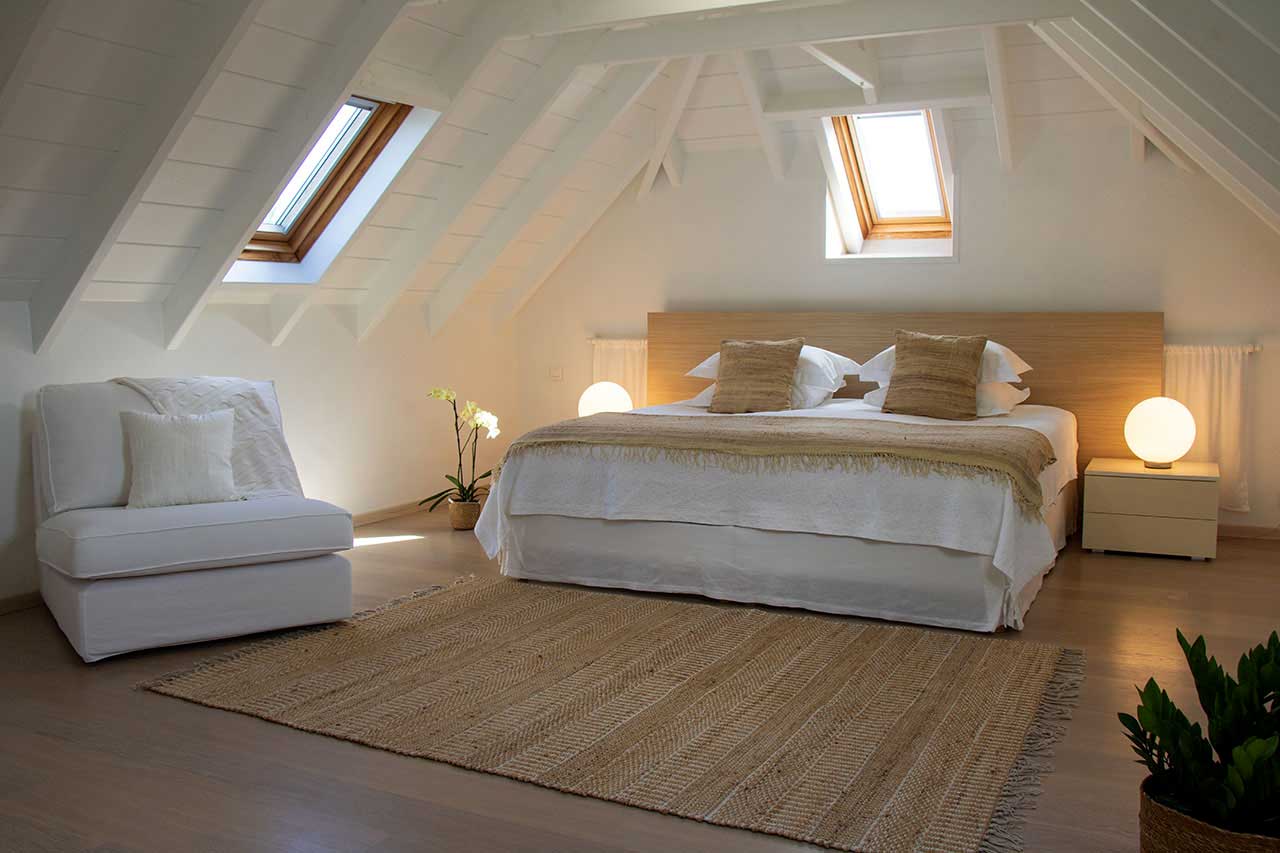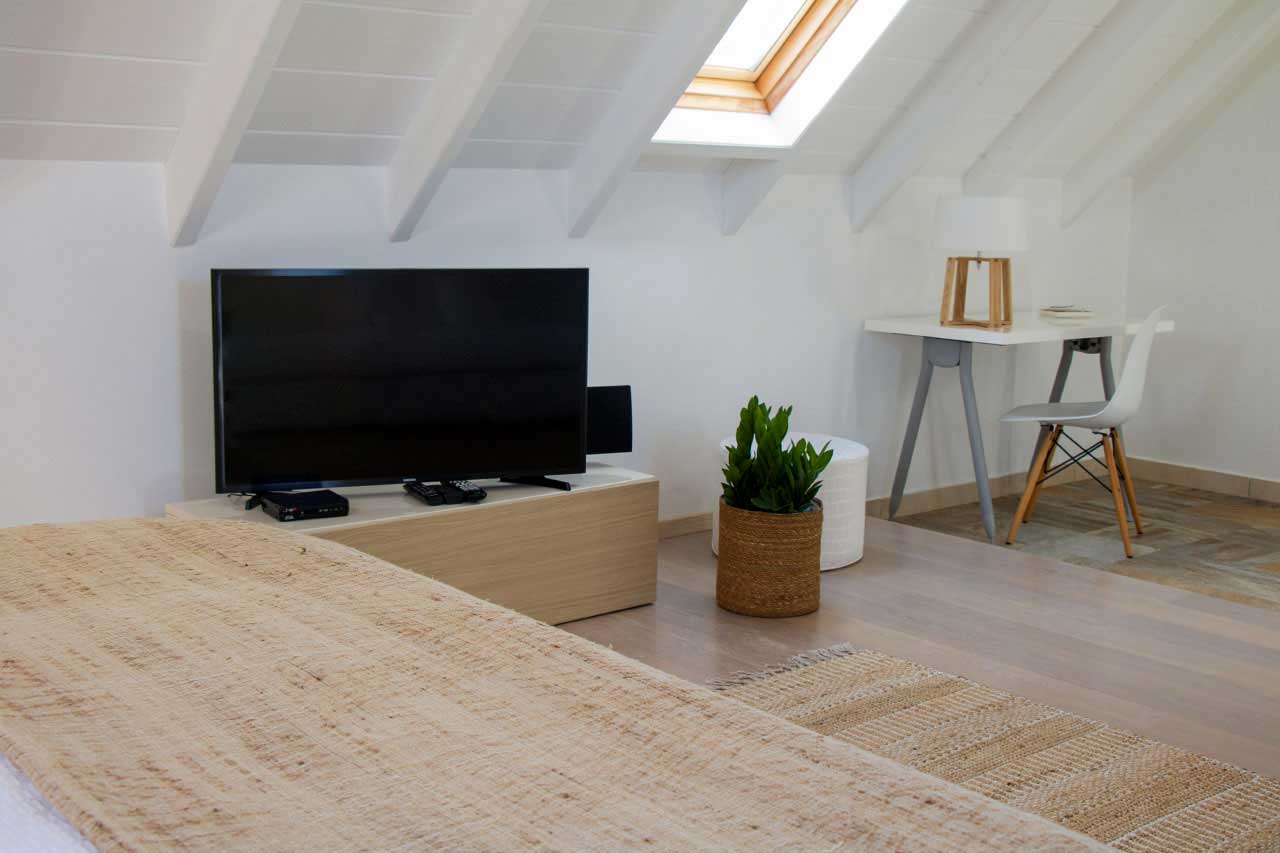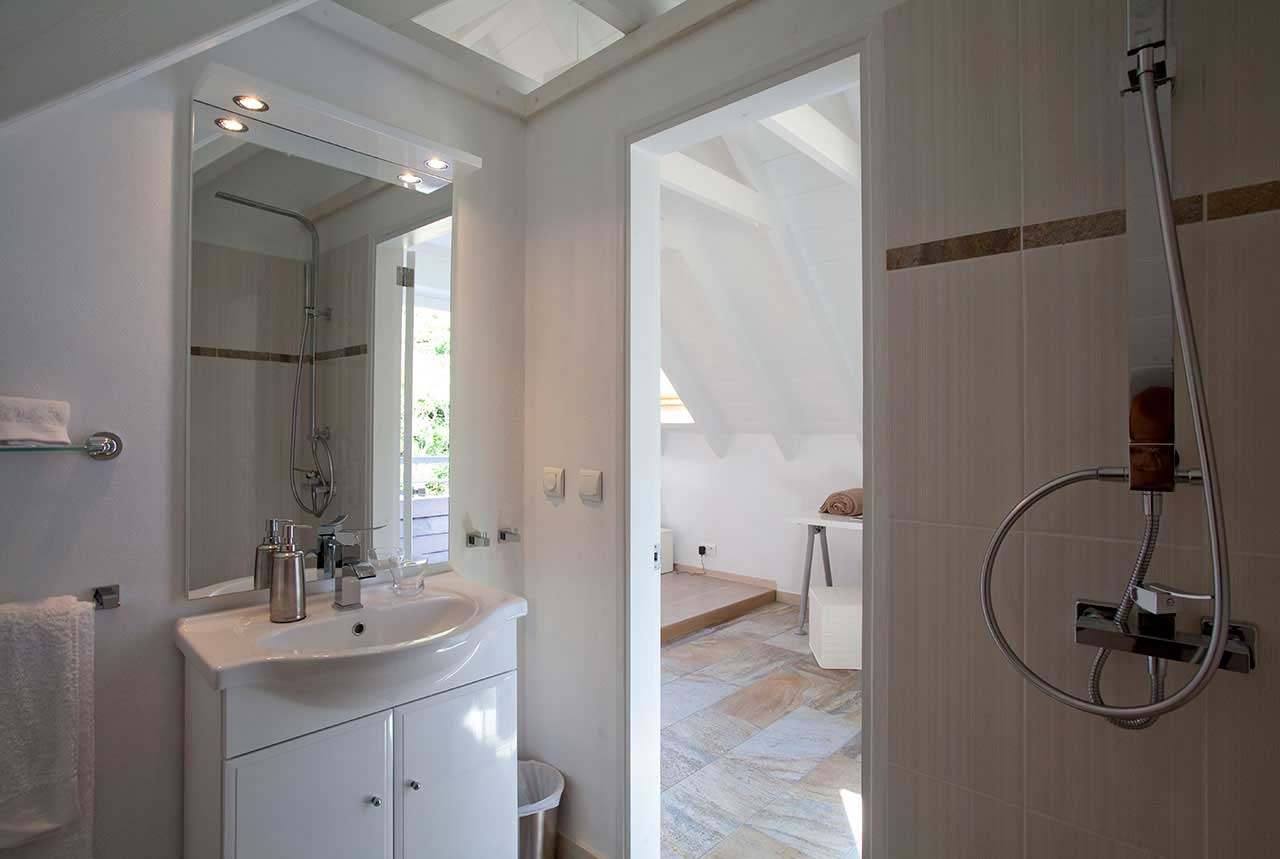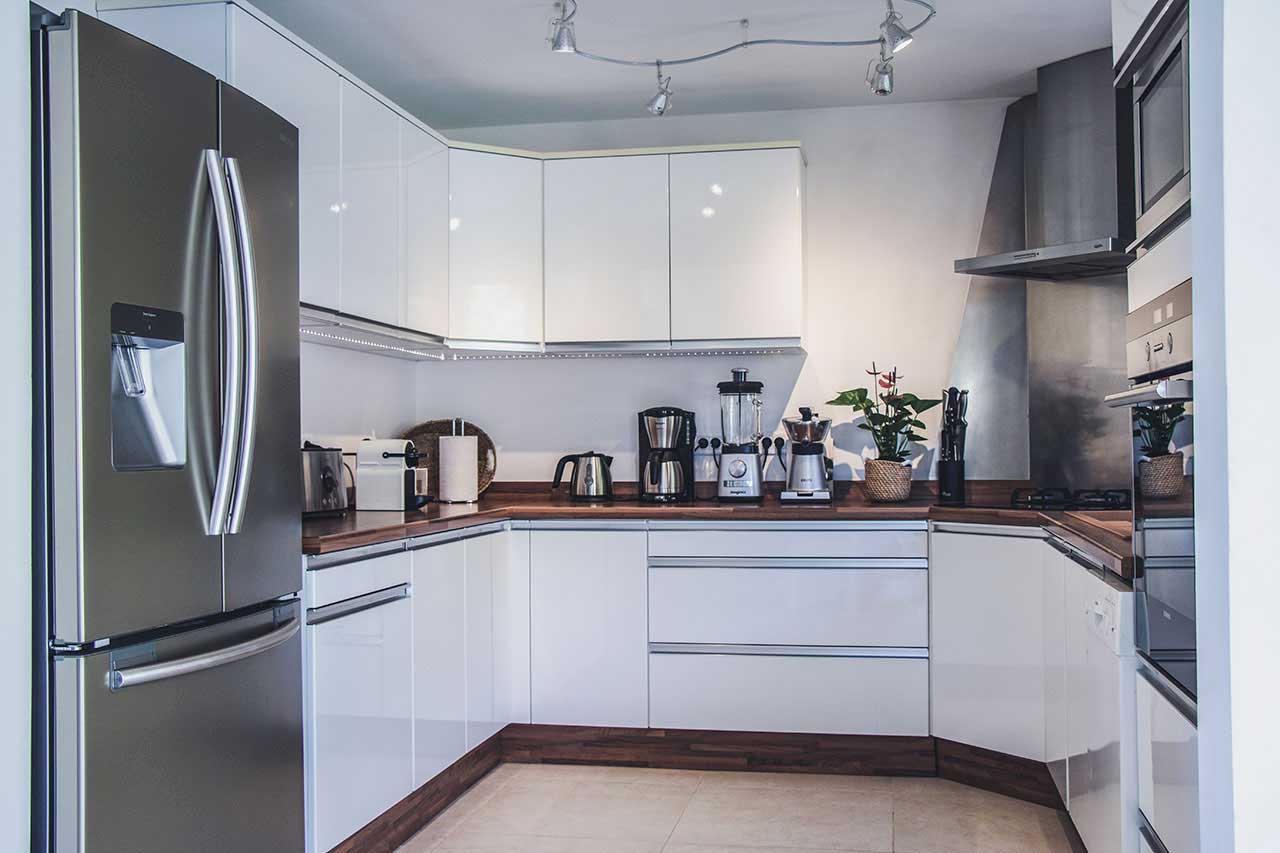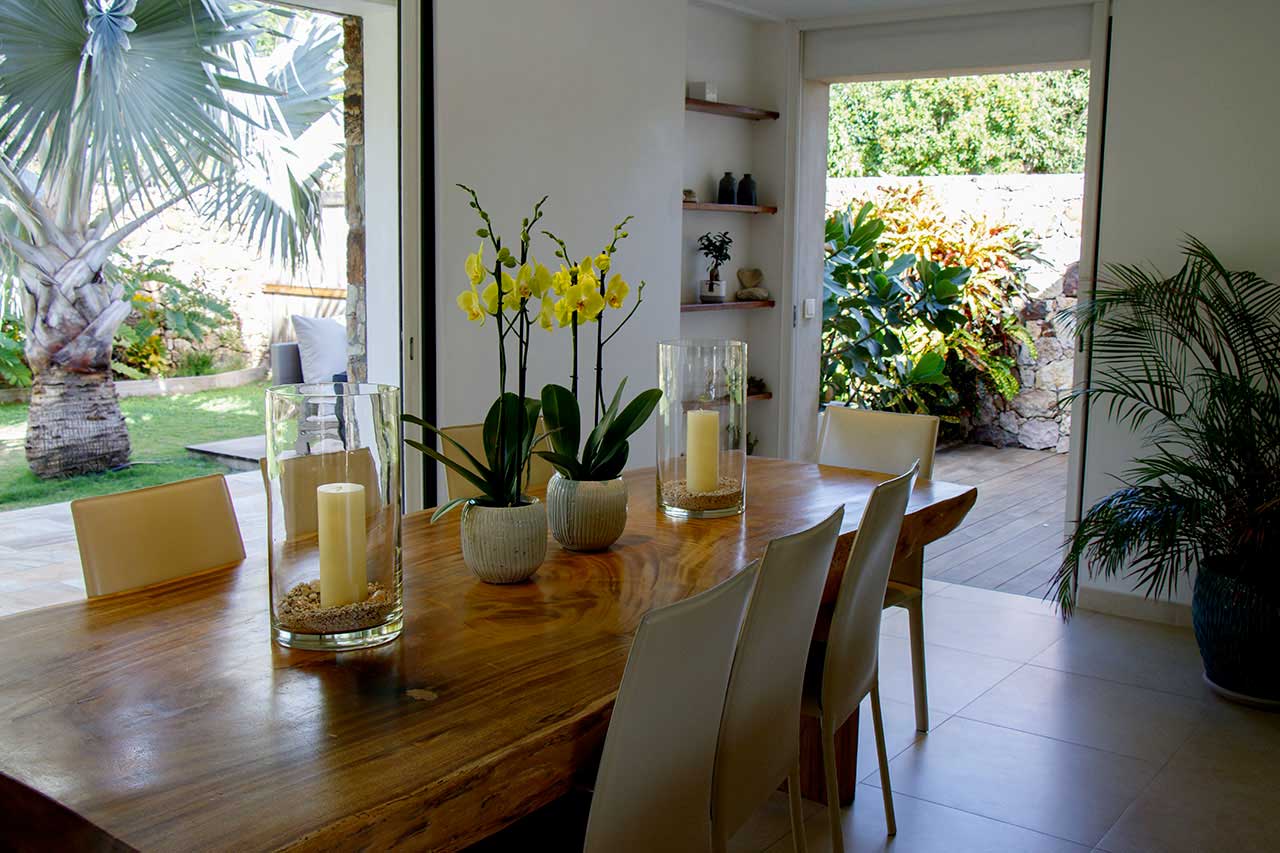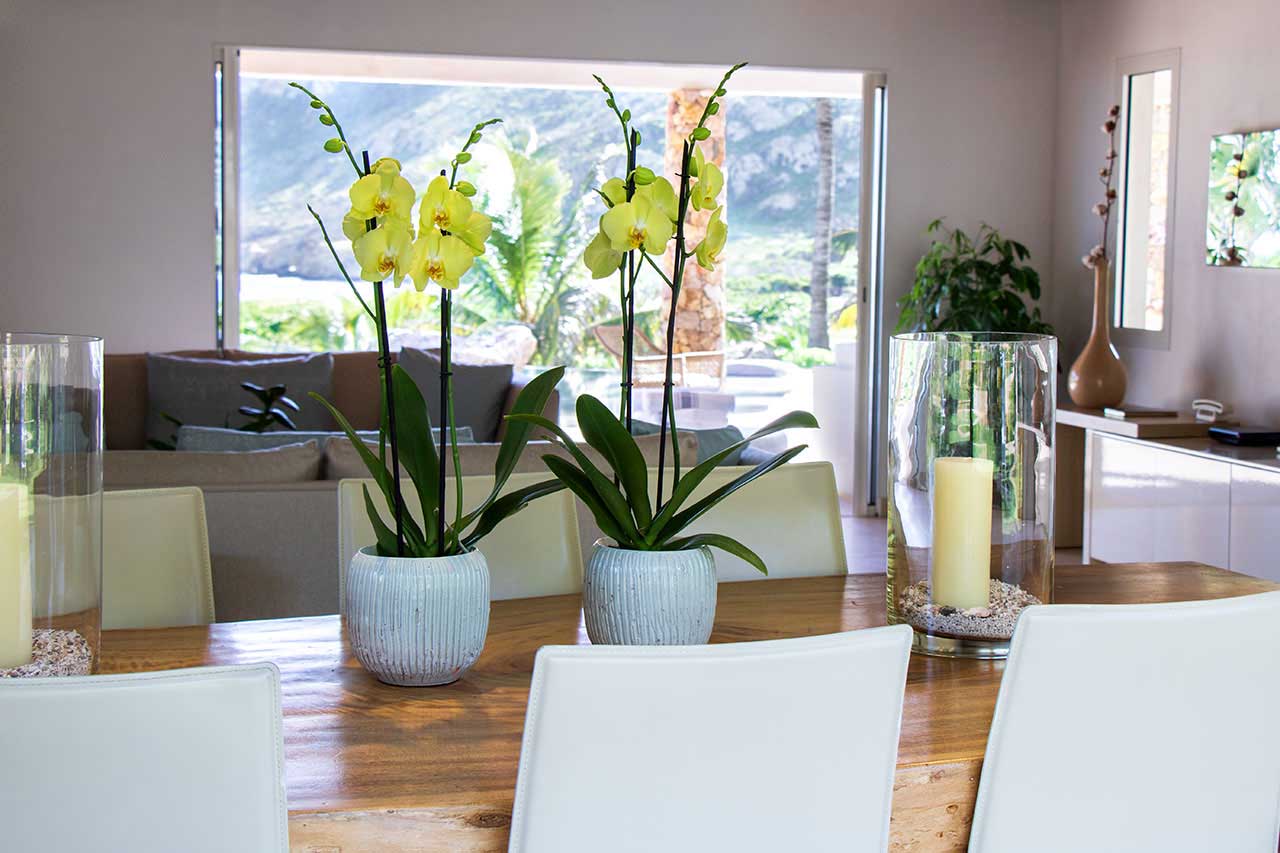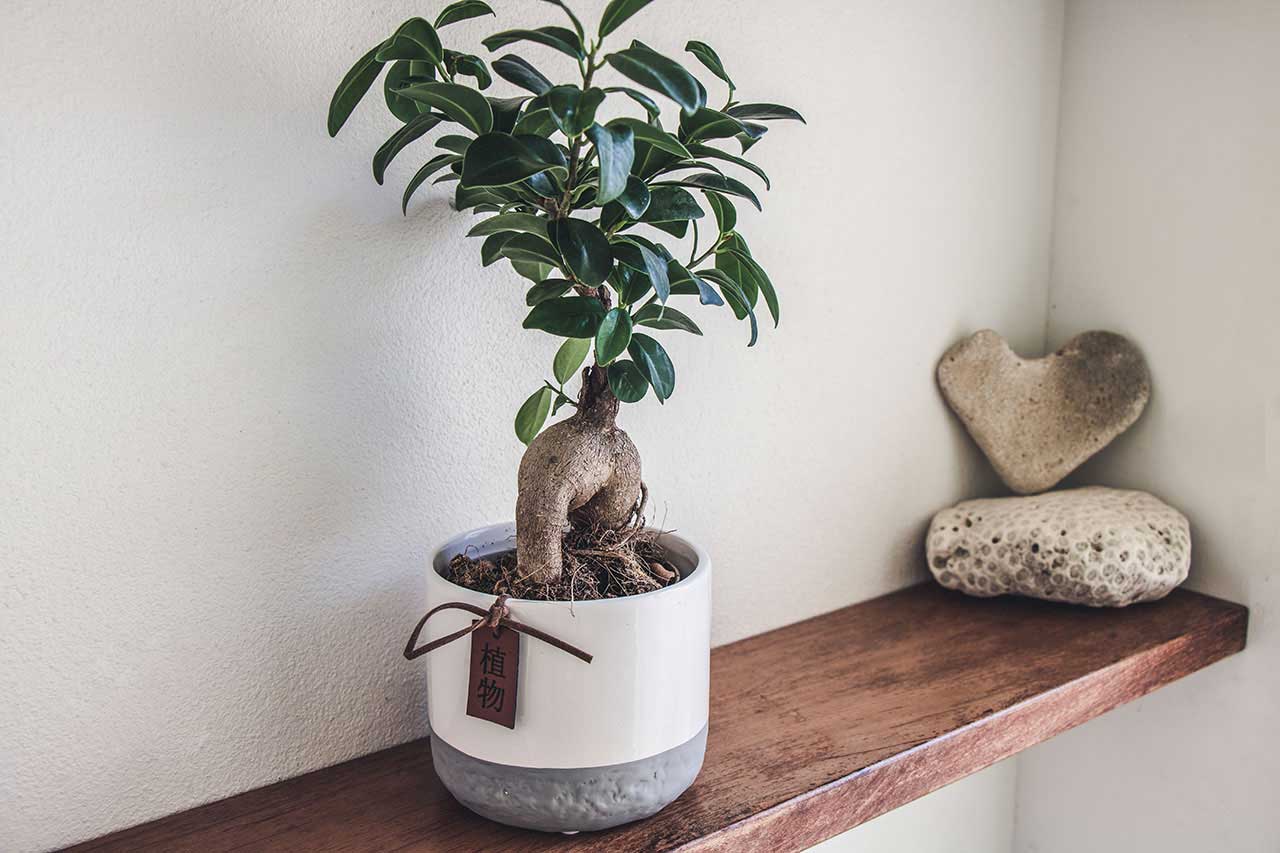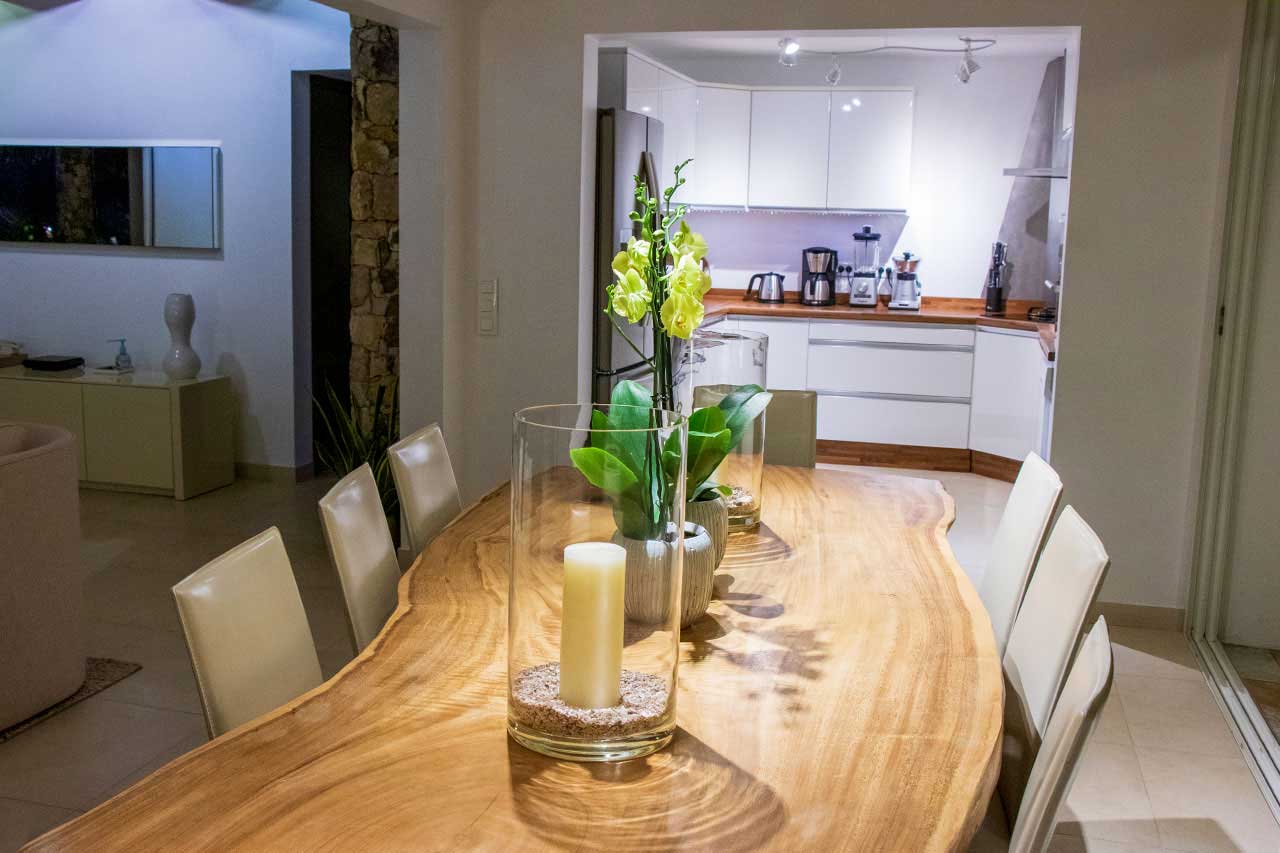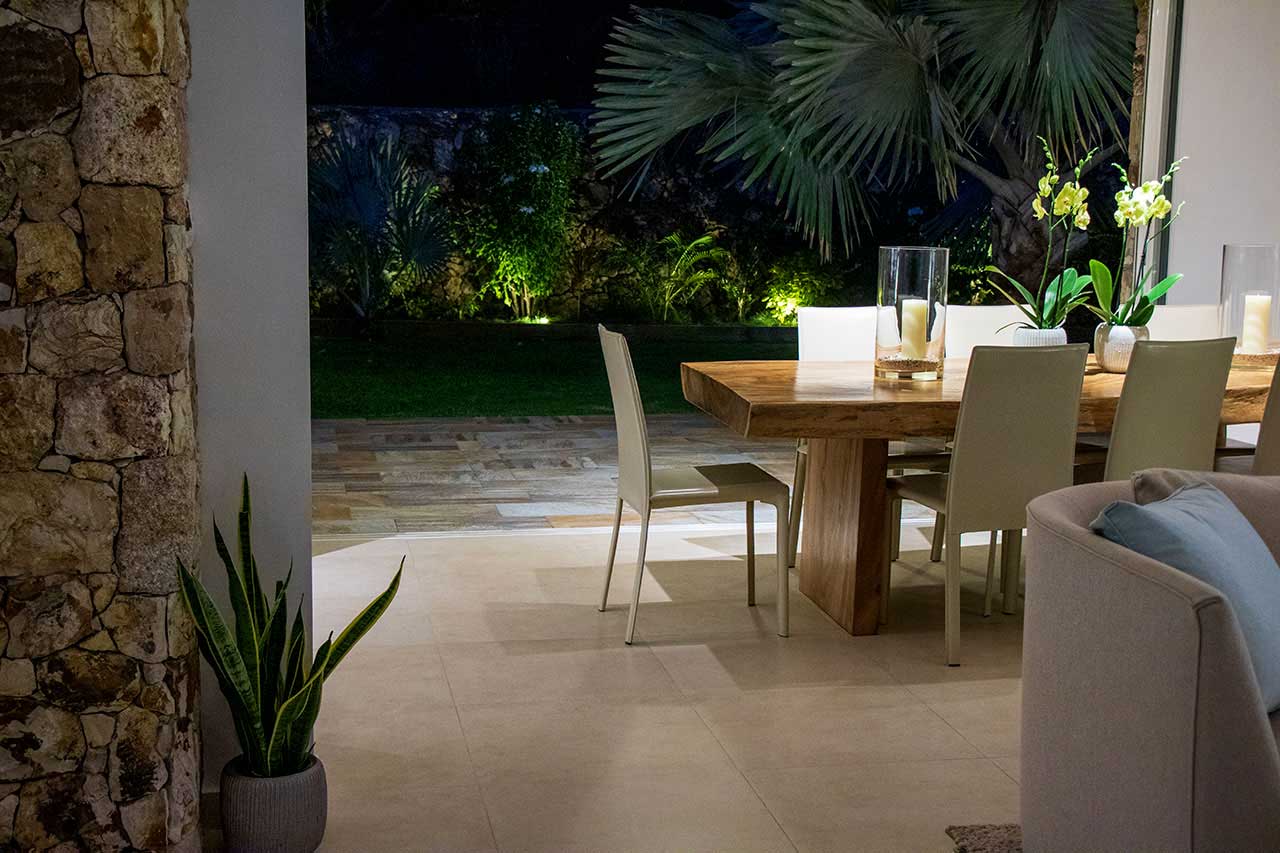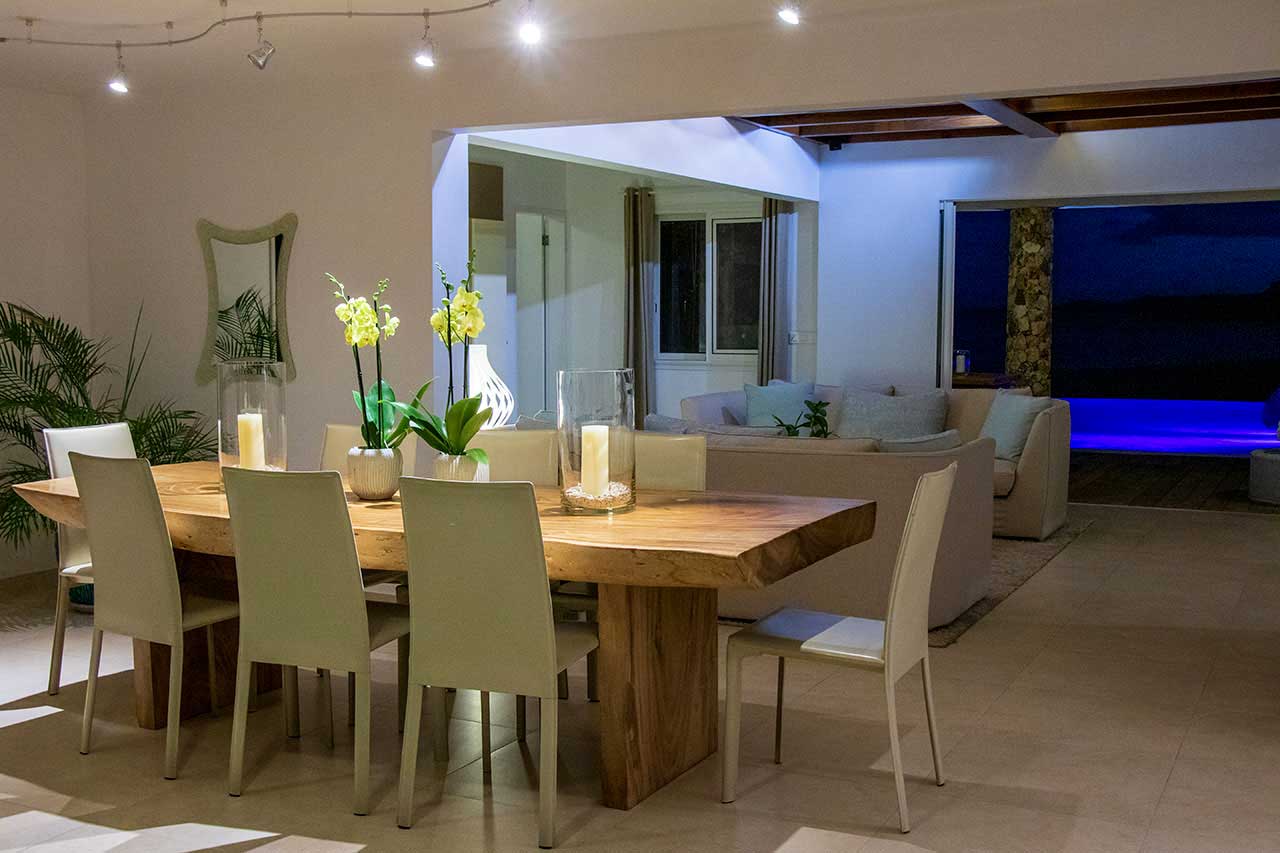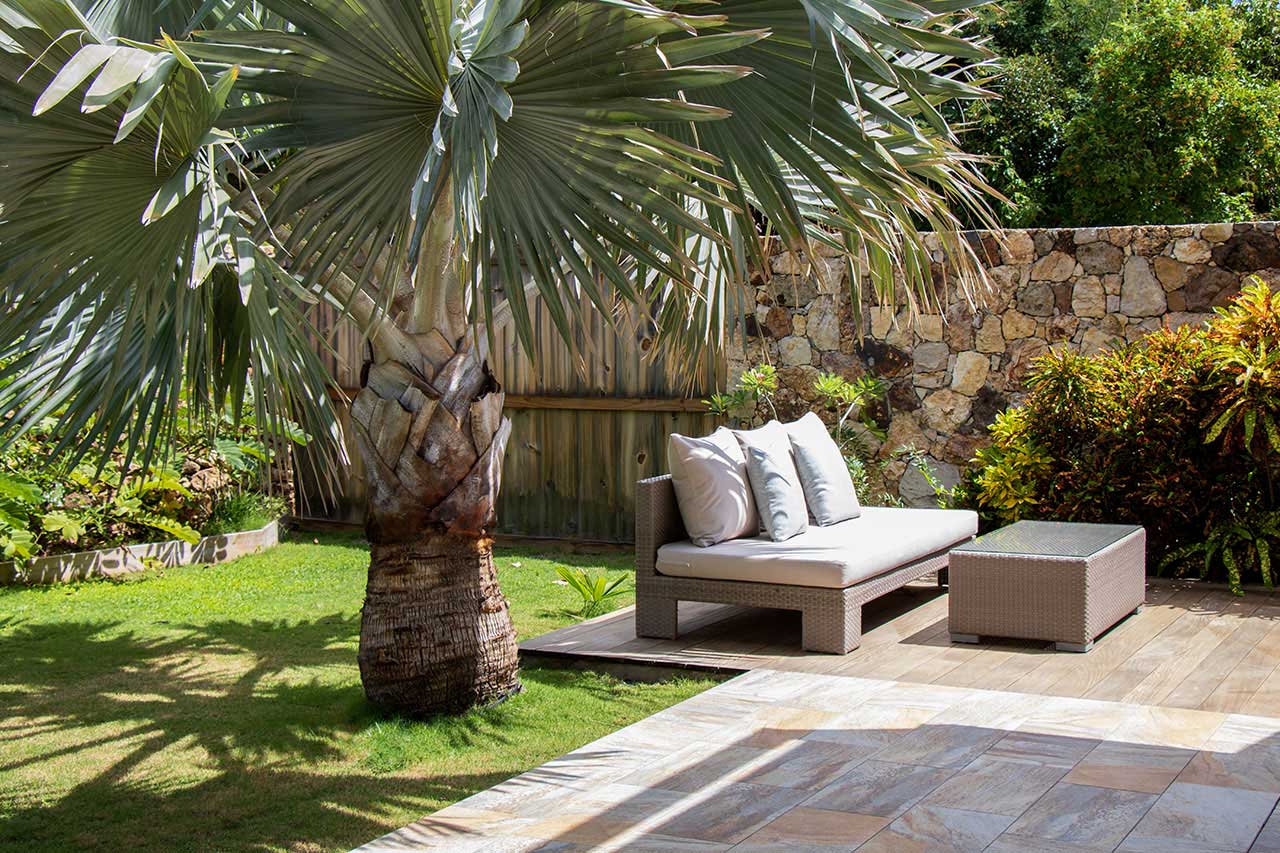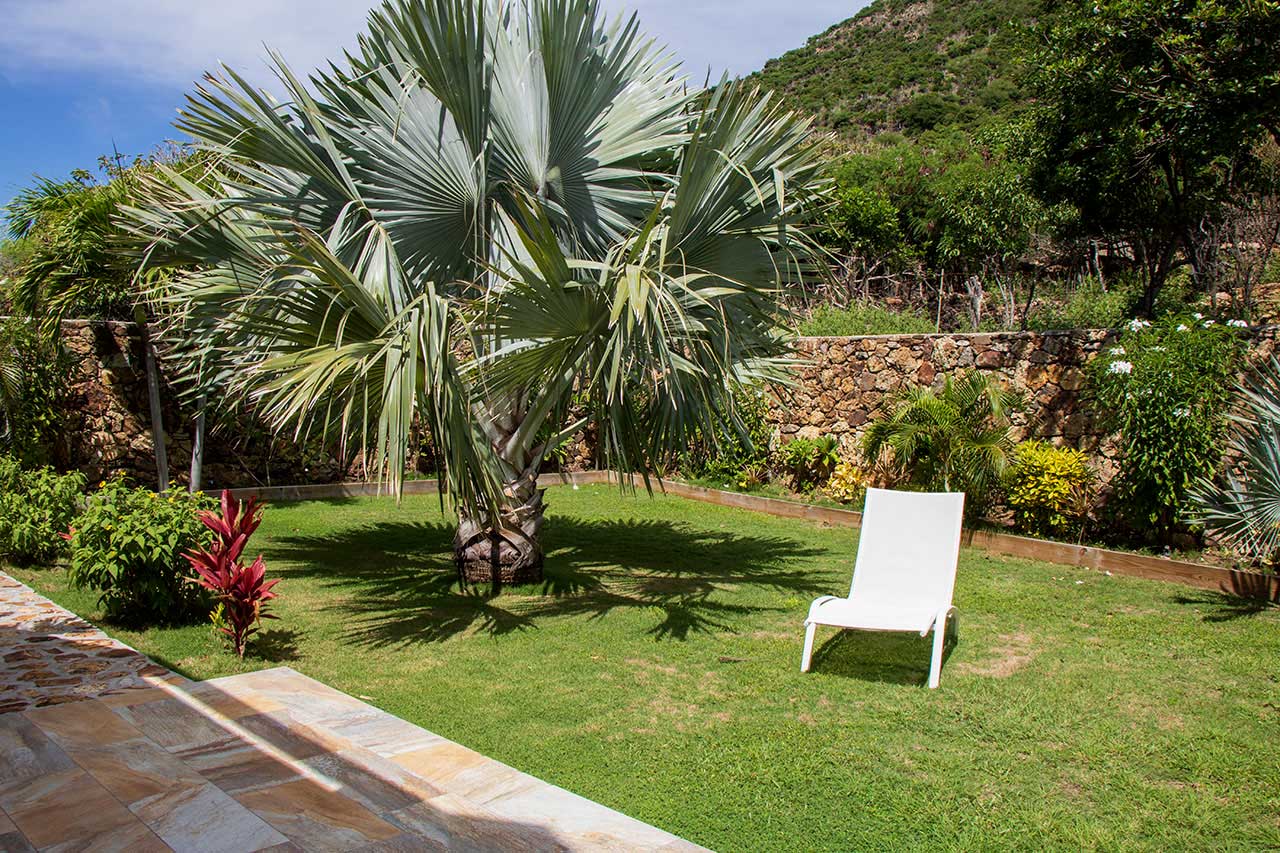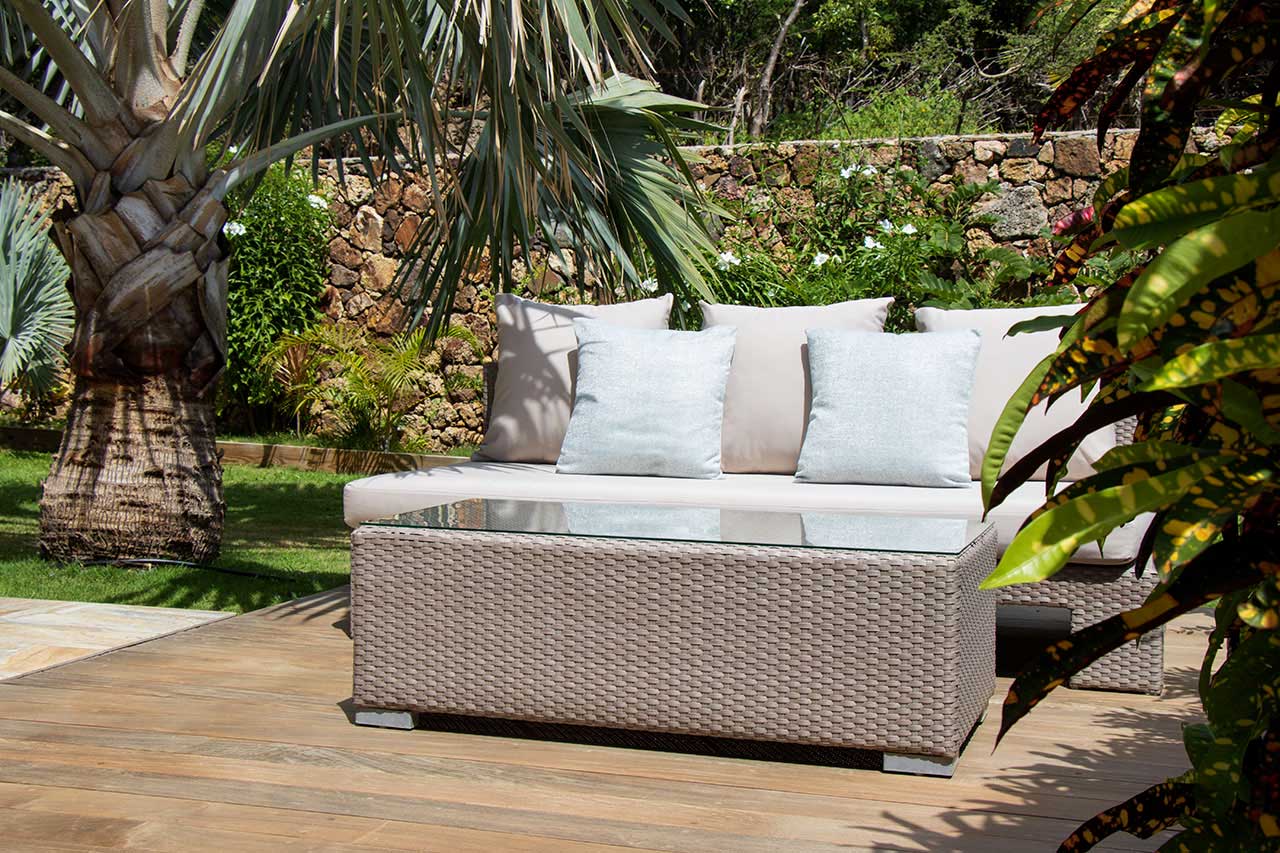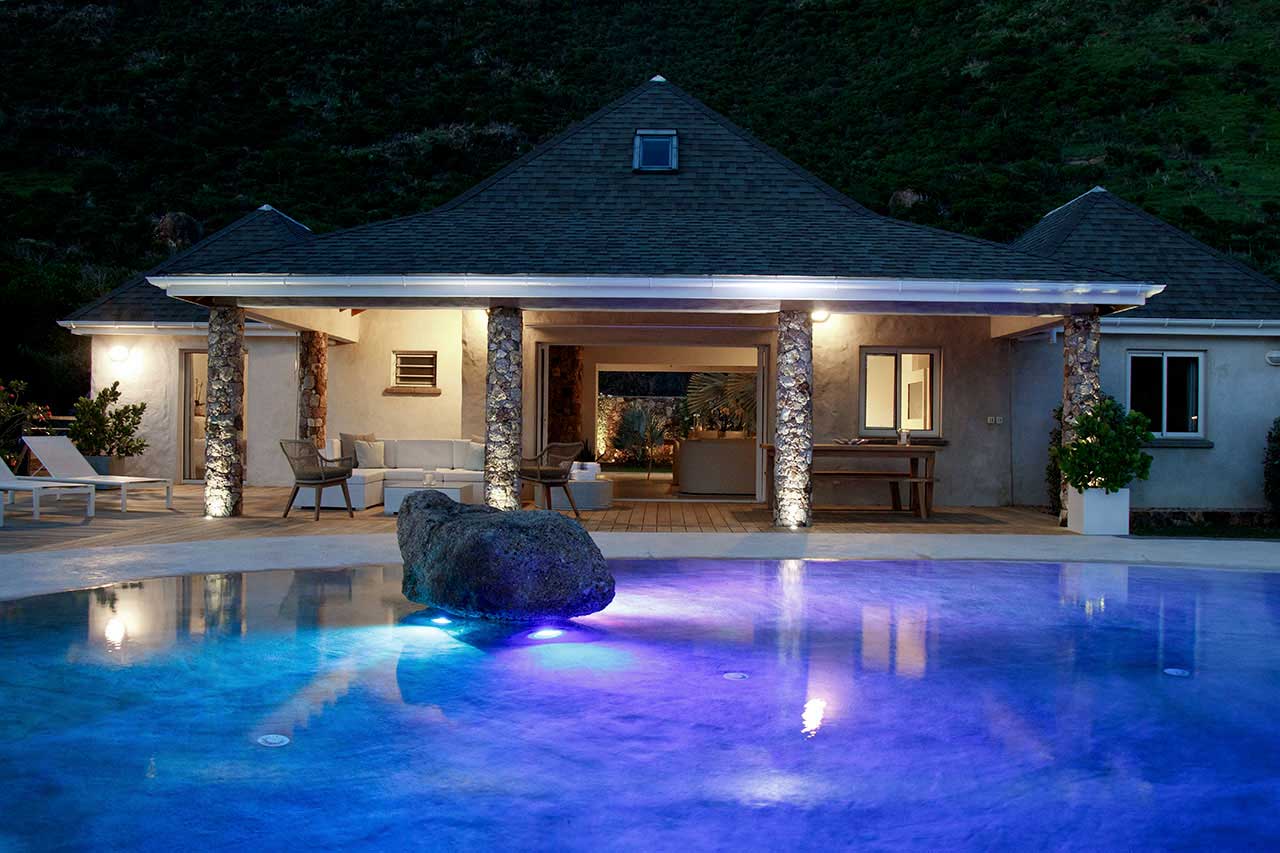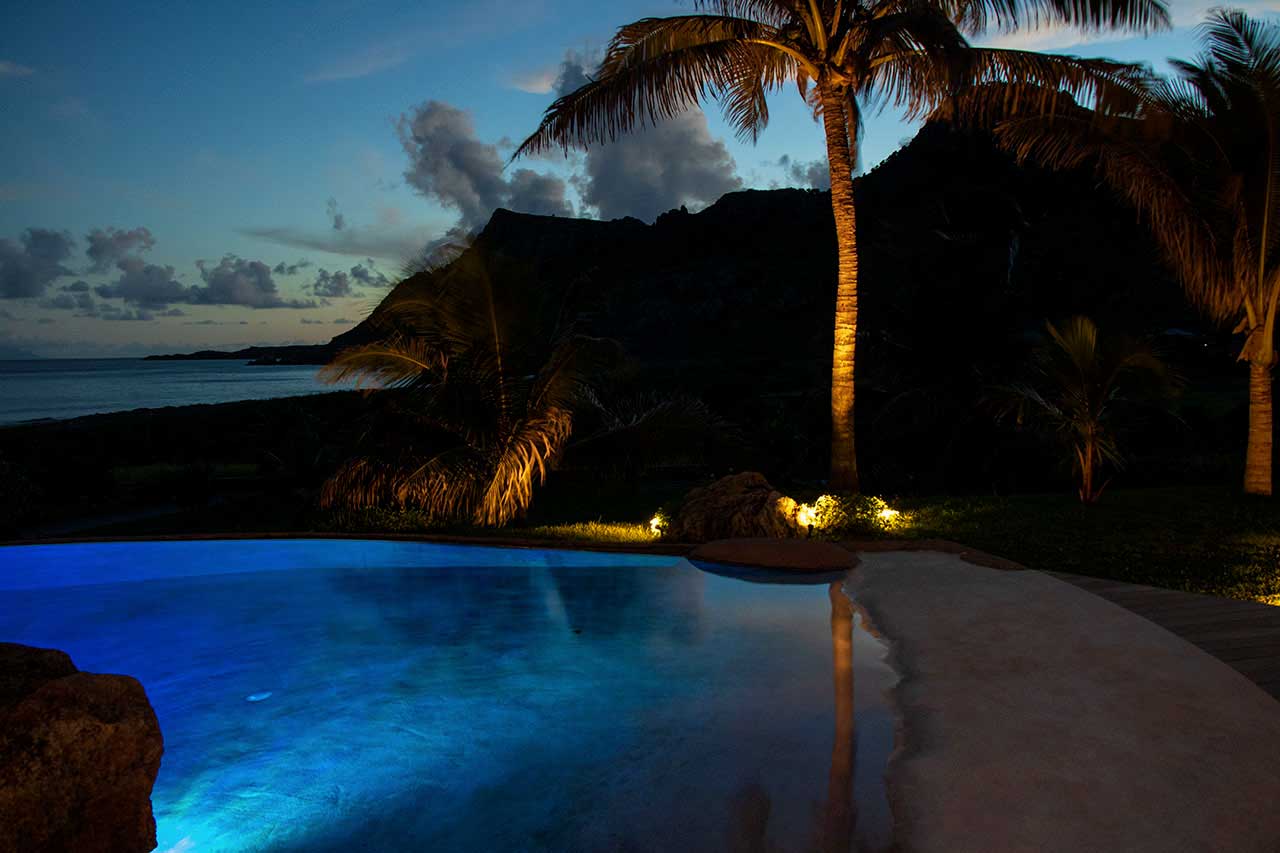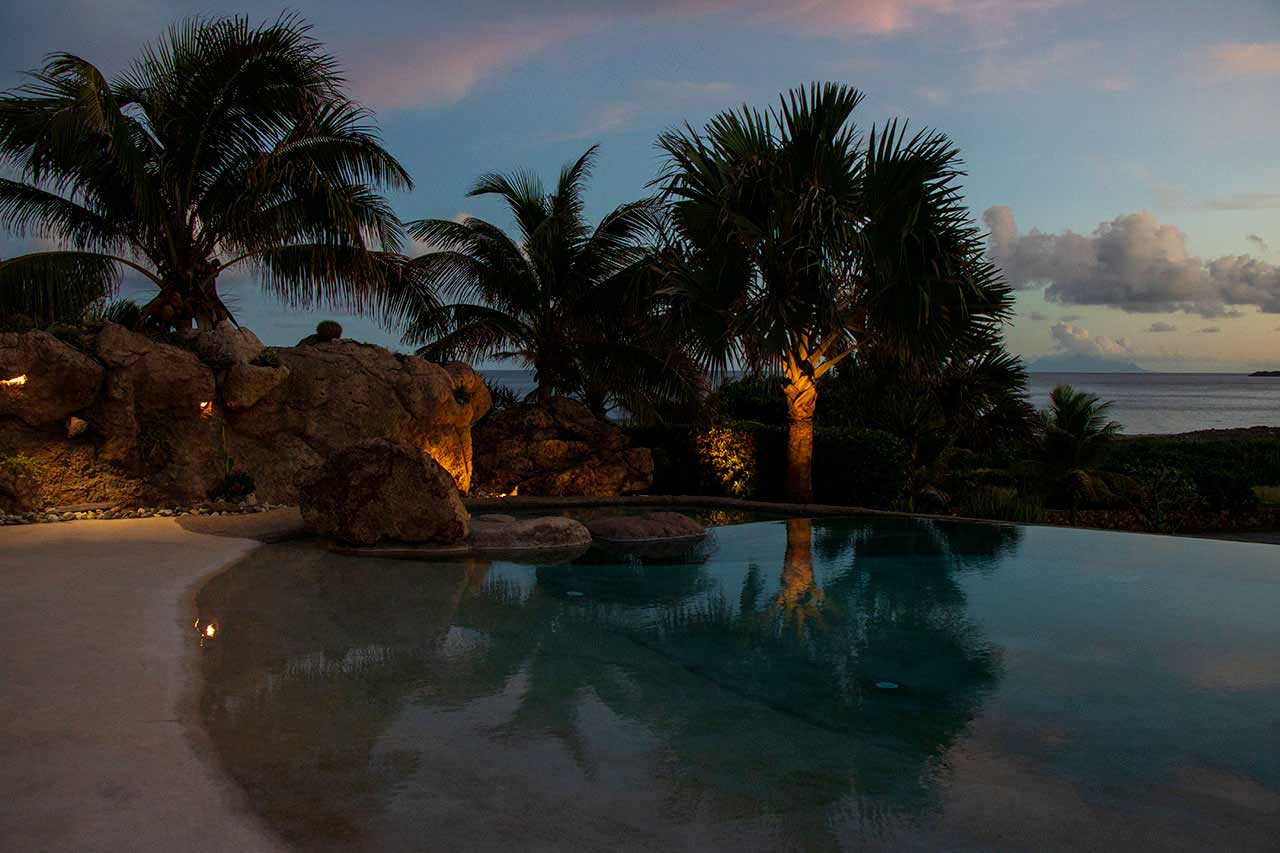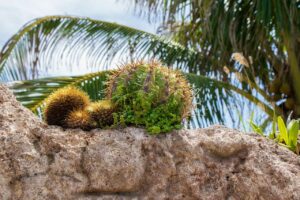 Villa La Roche dans l'Eau : Garden and View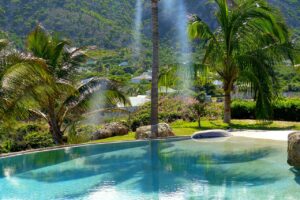 Villa La Roche dans l'Eau : Garden and View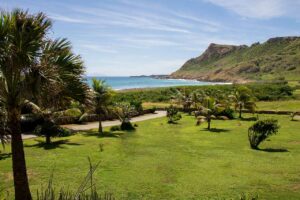 Villa La Roche dans l'Eau : Garden and View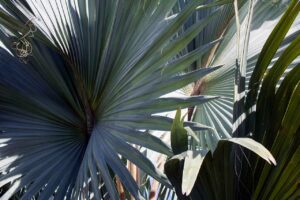 Villa La Roche dans l'Eau : Garden and View
Villa La Roche dans l'Eau is a charming villa located in the district of Grand Fond, in Saint-Barthélemy, on the particularly calm and relaxing wild coast of the island. A 3-bedroom villa in a sophisticated family atmosphere with its elegant, modern and minimalist interior design. The villa enjoys a landscaped tropical garden as well as a beach-like swimming pool with a spectacular view of the ocean.
The villa has a spacious living room overlooking the swimming pool, facing the ocean, and a dining room at the back, overlooking the garden facing the hills of Grand Fond. On each side of the living room  you find a sleekly-designed bedroom, with en-suite bathroom and king size bed.
There is a large table in the dining room that can accommodate up to 8 guests, ideal for convivial meals,. The fully equipped kitchen adjoins. You can also enjoy meals outside and even barbecues.
The upstairs bedroom is accessed from outside. This room has a king size bed, convertible into twin beds, its own bathroom, separate toilet, and also Dish Network Satellite TV independent from that of the living room.
The villa is a 20-minute drive from Gustavia, the main town, where you will find restaurants, shops, bars. The closest beach is Toiny beach and the must-see Saline beach is 5 minutes away by car. From the villa, it is possible to walk the hiking trail which provides access to the famous natural pools of Grand Fond, a real island treasure.
The villa offers many services. If you wish, we can pick you up at the airport and show you around the villa. You can, of course, decide to come on your own; we will be waiting for you.
A maid service is available from Monday to Saturday, except on Sundays and public holidays.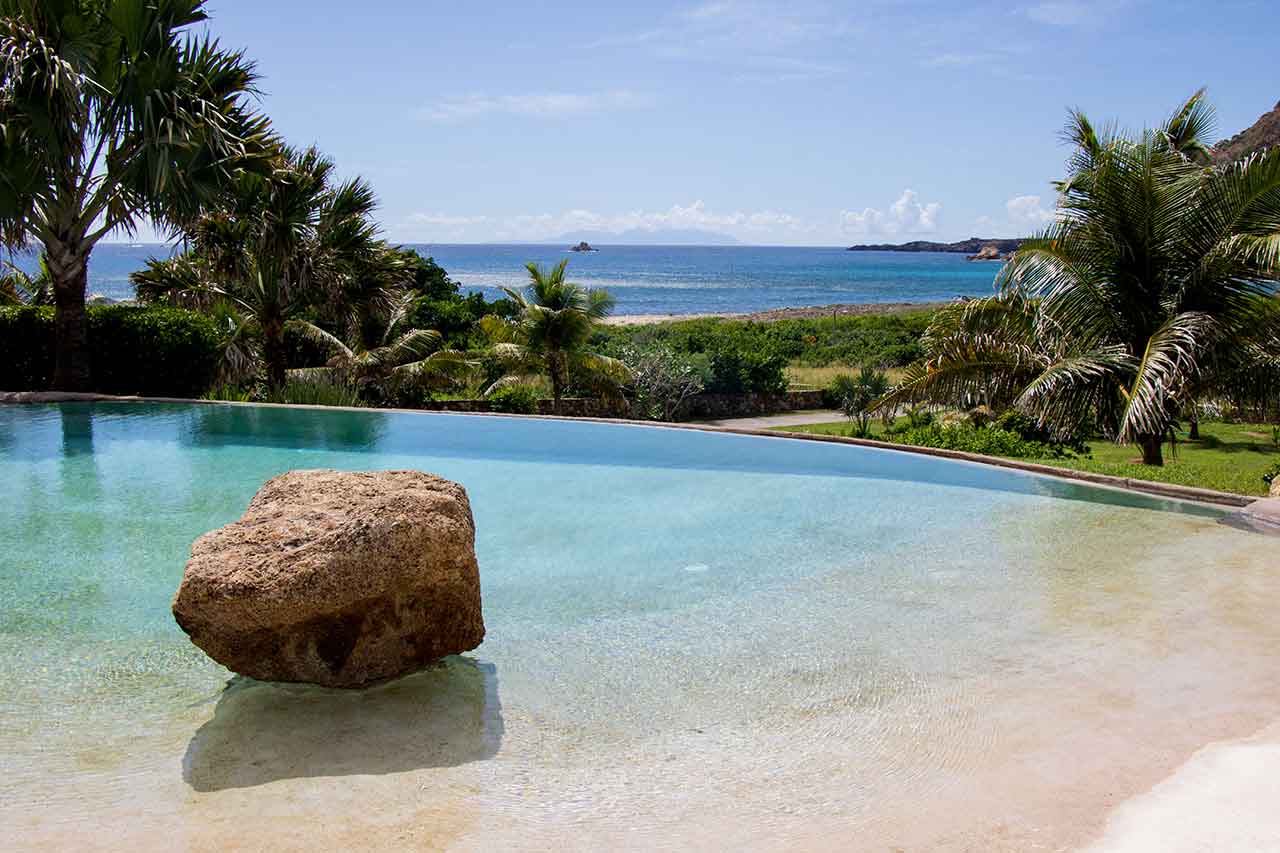 An enveloping power and softness massage for relaxation and stress release
Body and mind are rejuvenated with this massage aimed at rebalancing energies and regaining dynamism and vitality
Technique to revive blood circulation to eliminate toxins. Anti-cellulite action, suitable for people suffering from heavy legs, water retention.
Need for escape, for softness and well-being? Enjoy the pause and discover this massage entirely on the back of the body
Massages by a qualified beautician.
Massages with 100 % pure natural essential oils.

If you wish, you can schedule your appointments when you book your stay. They will be confirmed in return email by our qualified beautician who is specifically trained in body care. Appointments must be made 24 hours in advance and a 50% deposit shall be requested for the service. In the event of cancellation on your part, full payment for the service shall be invoiced.
Summer
From
From April 15 to December 14
Year end holidays
Rental of 3 bedrooms required
From December 15 to January 5
Winter
From
From January 6 to April 14
If you would like more information or a quote based on the period you wish to stay in Saint-Barthélemy and its availability, please contact us by e-mail so that we can get back to you as soon as possible.
The home was beautiful and exceeded our expectations in style and comfort. We will definitely be staying here again soon!
I can honestly not say enough good things about this Villa and its owners. Leon and Laurence were extremely responsive and helpful with everything from chef and grocery delivery suggestions to taxi services. Leon met us at the ferry port and directed our taxi to the Villa. We were kindly greeted by Laurence, who showed us everything about the Villa. The Villa is in a great location with the most amazing view. It is impeccably clean and very stylish. The amenities are second to none. They had stands for our suitcases, US adapters, and tons of other extras for our use. Unfortunately, we traveled during the coronavirus disaster and had to cut our stay short. Leon and Laurence were SO helpful and caring. I would search no further. This is the place you want to stay. Above expectations and a complete paradise.
Leon's place is absolutely incredible. The house is spotless, everything is brand new, and the pool/view from the villa is stunning. The daily maid service made the place feel constantly clean. Leon was helpful when we asked for recommendations on where to go. I'd 100% recommend staying here, you will absolutely LOVE it. Thanks Leon!!!
What are the dimensions and depth of the pool?
The pool is 9 meters by 6 meters. The pool bottom gently slopes to reach a maximum depth of 1.60 meters.
Is the swimming pool heated?
Yes, it is heated from December 15th to April 15th.
Is the pool lined with sand?
No, the cement-based coating gives a sand effect only.
Are there beach chairs available?
Yes, 4 sun loungers are available.
Are beach and pool towels provided?
Yes as well as the household linen.
We are a couple; can we choose the room we will occupy during the stay?
Yes, this is possible when booking.
Is there direct access to the beach?
No. Grand Fond beach is not a beach for swimming but the starting point for a hiking trail to admire the natural swimming pools. The closest beach is Toiny.
Is the kitchen well equipped?
You will find everything you need to cook your meals: different sizes of frying pans, pots, pans, serving dishes and utensils.
If I run out of gas for the barbecue, what should I do?
Call us and we will change the gas cylinder. It is best to check this a bit in advance.
Can we bring in a chef punctually or during the entire stay to make breakfasts, lunch and dinner?
Yes of course. We work regularly with the tema of
Villa Chef St Barth
very much appreciated by our guests.
Are there restaurants close to the villa?
The closest is the Hotel Le Toiny restaurant. Nearby you will also find the Barthélemy restaurant as well as the Sereno restaurant. You can also go to Yo Sushi which also provides home deliveries.
Can I pick up my bread on foot?
No, the nearest bakeries and supermarkets are in Lorient, a 5-minute drive.
Do I have to rent a car to get around?
Yes, it is necessary.
Is access to the villa easy? Is it necessary to rent a four-wheel drive?
No need for a four-wheel drive. Access is simple with a parking lot where it is very easy to maneuver.
Where is the nearest gas station?
In Lorient, 5 minutes away.
Can we call a taxi to get to the restaurant in the evening?
Yes, no problem.
Can I party at the villa?
No, parties are not allowed. No event that would bring a certain number of people not part of the rental is allowed.
Are the internet connection and Wifi fast enough for me to work?
Many of our clients work remotely and by videoconference without any problem.
What can we do if at the last minute we are unable to come? Can I take out cancellation insurance?
In the event of a last minute cancellation, we will apply the booking conditions agreed. You can, privately, take out insurance to cover this kind of issue.
Villa La Roche dans l'Eau 
Grand Fond
97133 Saint-Barthélemy